Ok Go
was the first band to hit the stage and they were brilliant so they deserved an article of their own.
The second band to hit the stage was the
Caesars
. I've read that this Swedish group (singer Caesar Vidal, guitarist Joakim Ahlund, bassist David Lindqvist and drummer Nino Keller) demonstrate that some of the "best" classic rock is coming from Sweden. Hmm... 'Jerk it out' is their claim to fame after having ipod tag the song for their commercials. However, the Caesars' live set was uninspired and out of tune - and I don't mean the instruments. One or two songs off-key is understandable, but an entire set? Their set seemed to be a case of contrasts - Wild showmanship, meaningless video montages and poor, out of place vocals. Overall, a 5/10.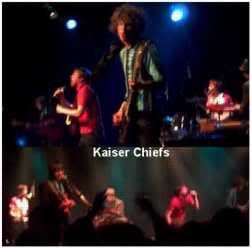 Kaiser Chiefs
When this UK Leeds (2003 formed) took to the stage, I had the impossible task of taking pictures whilst being bounced in the air by the Commodore's spring floor. The band was infectious and catchy; Wilson had good camaraderie with the audience and he sounded in top form.
The Kaiser Chiefs are Ricky Wilson (lead vocals), Andrew 'Whitey' White
(guitar), Simon Rix (bass), Nick 'Peanut' Baines (keyboards), and Nick
Hodgson (drums and vocals).and their band is named after a soccer team from South Africa.
Many reviewers have dismissed Kaiser Chiefs as a Blur sound-alike. Perhaps on their cd, but live they were more reminiscent of Futureheads, The Monks, The Jam, Early Joe Jackson, touch of the Clash, and even bits of the Rezillos. Maybe I'm just too old, and identify more with the merge of punk with ska/new wave. However the band may be like-minded as they cited their influences as being Kinks, Beta Band, Supergrass and XTC.
The audience loved the Kaiser Chiefs and it was next to impossible to get near the front due to the testosterone laden pogoing. I was content to pogo in one spot and get swept up in the heady, fist pumping music. Ricky Wilson's voice during "I Predict A Riot" was energetic and obviously an anthem for the audience; "Everyday I Love You Less And Less" is nothing short of fantastic. After Wilson leapt into the audience (in true old-school style) the evening was over. With exception to the Caesars, the evening flew by.
If personality helps push a talented band to the top, then both Kaiser Chiefs and Ok Go are heading places. Caesars who? Overall for Kaiser Chiefs 9/10
Submitted by
Christine