As most of our readers are aware, Terry Lowe is no longer with us. However, Terry's words and photographs will always remain with swanktrendz. I have reposted Terry's John Butler Trio concert review, as, in 2008, he had never heard of the group and was very reluctant to go. Fortunately, I cajoled him into attending and by the end of the evening, he had commented several times about the obvious talent each of the band members possessed.
In hindsight, I am pleased Terry went with me; I'm relieved he enjoyed the music, and content with our pizza stopover. I was pleasantly surprised that he wrote his article the moment he got home, rather than take a break from an evening that had been 'forced' upon him.
We are reposting Terry's article because the John Butler Trio played last night in Victoria, and they're finishing up in Salmon Arm, Sunday night! (That should be amazing as it is a small city.)
I know a lot has happened to JBT since 2008, e.g. new bassist and drummer; as well as an album release - April Uprising - in 2010. Two of its songs reached the top 5 in Australia. I anticipate the songs, Close to You and One Way Road will be performed, and I would appreciate a post detailing what other songs from JBT 2010's album were played. In general, if someone would like to share Victoria's set list, that would be appreciated.
I'd like to think that Terry's concert review is still relatively applicable (re: talent). I'd like to thank you for indulging me with a memory of a friend.
Commodore Ballroom, Apr 12, 2008 - Sold Out
Visit Swanktrendz
Live Nation Listings
An email from Christine instructed me to meet her in front of the Commodore at 10 p.m. to see the
John Butler Trio
. "Who's the John Butler Trio?" I wondered, turning to Google.I soon found that they are a platinum-selling band from Australia, best known for wide-ranging, eclectic, and somewhat improvised stage shows. Their best known release, to date, is 2003's
Sunrise Over Sea
. I also saw many plaintive queries on various message boards asking "Where can I get a ticket for this show? I NEED a ticket!" and so forth.Here's what we saw: a giant drum set, a standup (i.e. acoustic) bass, and an amplified acoustic guitar. They were joined occasionally by a keyboard player, and I was certain there was a second electric guitarist in the background, but was informed it was a guitar tuning tech.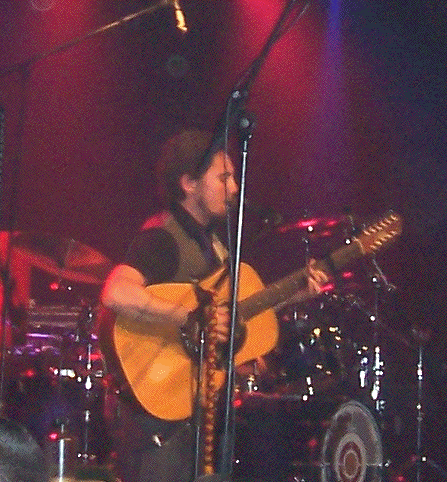 The word "trio" is usually reserved for jazz ensembles, and there were some similarities here: the upright-bass player, who also played a standard electric bass guitar, at times played his acoustic bass with a bow; they played extended instrumental pieces; and the musical range was all over the map. There, though, the similarities ended.They are excellent musicians, far more instrumentalists than singers/"rock stars" who revel in mixing and matching genres and making it work. They are very versatile, imaginative, and well-rehearsed.
John Butler
is a superb string player (who also plays a banjo), and can coax an amazing range of sounds from an amplified 12-string acoustic guitar.
The drummer
was also very good, and even had a Jamaican steel drum that he played with pom-pons. And the
bass player
stood there and held it all together, as good bass players should.

The audience was thoroughly familiar with the material, even if I wasn't, and they loved it. This band is definitely original, and I was left wishing I'd known more about them going in (there's always time to learn), and was puzzled by the crowds' reaction at times.I've been to any number of jazz shows over the years, and seen some famous players (Miles Davis, Ornette Coleman, Frank Zappa, and even Captain Beefheart). I've also been to classic punk shows and seen The Clash, Iggy Pop, DOA, and so forth.
At jazz shows, the audience applauds solos, but there's no mosh pit and no one EVER pogos. At the punk shows, no one cared about solos ("Wankers!"), or even cared much about music - there it was all rebellious attitude.
Here, the crowd's reaction was a strange merger of the two. They both applauded the solo instrumental and pogo'd. I've never seen anything quite like it.
And, outside of jazz shows, I'd never seen any band sit down and play an instrumental piece (
Ocean
) that went on for 15 minutes, yet still keep the crowd's rapt attention.Image from smh.com.au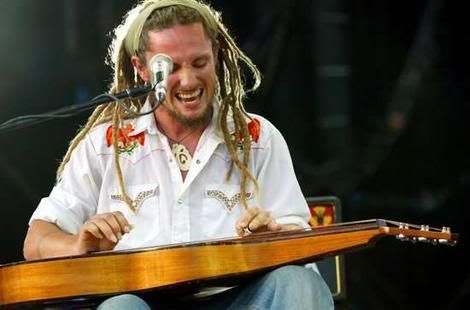 I was very impressed by this band, and admire their virtuosity and originality. If you're as clueless as I am about under-the-radar musicians, the
John Butler Trio
might
just be the best band you've never heard of.
Members of the band are:
John Butler, Michael Barker, Shannon Birchall
Thanks to Aaron for supplying the following set list:
Company Sin
Used To Get High
Somethings Gotta Give
Treat Your Mama
Caroline
Thank You
Gov Did Nothing
Good As Gone
Ocean
Satisfy
Groovin' Slowly
Zebra
Good Excuse
(encore)
Losing You w/Mama Kin
Better Than
Funky Tonight