Thursday July 26, 2007
Empire Theatre
Belleville, Ontario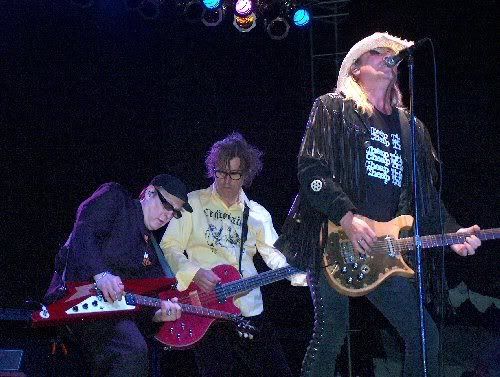 2006 image from www.kweevak.com
Try to imagine one of your all-time favourite bands and add that you can go see them anywhere you want. A big concert festival perhaps? Maybe a nice, intimate club? Or how about an average sized parking lot that holds maybe a thousand or so people? I'll take this last choice and that's exactly where I got to view one of my favourite bands, Cheap Trick, on Thursday night. The Empire Theatre... parking lot.
I know what you're thinking 'cause I thought the same. Cheap Trick? In a Belleville parking lot? What's up with that?
And you know what... I don't know what's up with that, and I definitely don't care after seeing them rock their butts off for nearly an hour and a half of energetic and inspired playing.
There was even an impressive video screen (as if we needed it) so that you could see the lads up real close if you so desired, and they don't really look any different from how I remembered them in the seventies (when I couldn't admit to liking them for fear of being abused by my inner circle of Led Zep friends).
The stage was set up perfectly with black and white checkered amps and speakers, and even a box that I had no idea what it was there for until Rick Nielsen used it extensively to stand and preen all throughout the show.
Ah… Rick Nielsen. If ever there was a more unique and entertaining character in the world of rock, it is definitely this man. If I could sit down and have a few colds ones with any of my rock gods, it would now be Mr. Nielsen (my apologies Jimi Page, you've been temporarily relegated to number two).
I've always respected Nielsen as a great songwriter and guitarist, but I now know what a great performer he is. Talk about personality; this guy could have his own stand up act. His nonstop playing and singing were perfect. More importantly, he literally carried the show with his humour, banter, and genuine crowd interaction. With no slight intended to the others, they could very well be known as Rick Nielsen and Cheap Trick because of the energy and enthusiasm he displayed. Maybe it was the bugs?
The bugs!? Oh yeah, I forgot to mention the fact that Belleville must be the largest flying insect capital of Canada... er, Eastern Canada that is. I know you Westerners outdo us in that department, but the band was spending a lot of time frantically avoiding insect digestion. Sometimes it looked like they were dodging bullets they were so frenetic, but it made for an awesome performance.
The playing was fantastic for a band that has been touring for thirty odd years. Tom Petersen played well and stepped up for his moment singing an inspired "I Know What I Want", but for the most part he did what a good bass player is supposed to do, keep it steady.
Bun E. Carlos, one of my all-time favourite drummers, did not disappoint. This guy is solid and I always felt he carries the torch for all of us drummers/musicians who might not look like the stereotypical rock star. He could be an accountant for all we know, but he plays better than the Tommy Lees of the world (who might be aesthetically more pleasing).
Robin Zander was a surprise to me because although he performed well and even played guitar much better than I ever thought he could, I felt he was almost embarrassed to be there. He just didn't look comfortable. I don't think he uttered a word all night, which is very rare for a lead singer. His crowd interaction was minimal. Maybe he's been around Rick long enough to know that's Rick's forte. However, it would have been nice to see him get involved in the performance.
Technically, Rick's singing was very, very impressive. When he sang the intro to one of their biggest hits, "The Flame", you would swear he was pulling an Ashley Simpson it sounded so much like the recording.
And the list of hits they played was what you would want and expect. "Dream Police", " I Want You To Want Me", "Auf Wiedersen" (my fave),"Hello There", and even the theme from "That 70's Show" which was actually kinda strange because they could have played a dozen or so classics instead of playing that one.
But hey, this is Cheap Trick. They're a bit goofy, still a bit cute, definitely a bit strange, but a damn good live rock act that I am definitely going to see again - even if I have to drive to a small town parking lot an hour and a half away.