An Extremely Verbose Review
July 13, 2007
Commodore Ballroom Full Capacity
Overhead at various points in the evening (by more than one!):
Is this your first 'Spree experience'?... Oh? Yes, it's my 3rd... I felt is was a... euphoric... freeing experience. I don't think I've ever felt so happy...
A lot of adjectives were being bandied about after Polyphonic Spree's Commodore gig, but the one that kept surfacing was
joyous
. What the hell? Pause. Well now... okay... right then. Who am I to devalue their experience?
Hailing from Dallas, Texas The Polyphonic Spree have found their niche in the indie market thanks to the hard work, self promotion and thorough dedication of founder, Tim DeLaughter.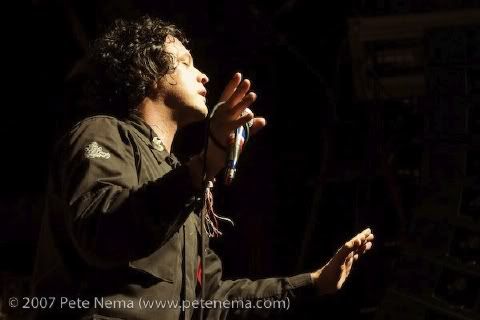 Images from www.petenema.com/concert
The core members in The Polyphonic Spree are Tim DeLaughter, Mark Pirro, and Brian Wakeland joined by a continuous revolving influx of 7-20 musicians. For those in the 'music know' the three main members of TPS are also the former members of Tripping Daisy, a popular 90's act which disbanded after drummer, Wes Berggren's, unexpected death.
With a firm nod to Electric Light Orchestra as an acknowledged influence, DeLaughter has transformed his musical vision into a concrete choral rock show slightly similar to Arcade Fire, and definitely sharing AF's leading fan, David Bowie. And who are we to argue given Bowie's musical track record?
On to the show.
The Commodore was packed - not sold out to-the-rafters packed, but legally full. The material stretched across the front of the stage (serving as both stage curtain and screen for various video montages) was a classic TPS prop. One that already had the crowd clapping in frenzied anticipation. The dance floor was already 15 rows deep with expectant, sweat sheened bodies staring at the stage, as if willing some thing, some one to appear and begin the show.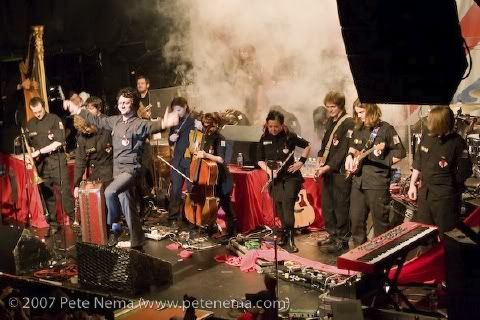 Images from www.petenema.com/concert
It worked. Starting off as some acapella, karaoke-tinged sing along came the chant, "... No short-haired, yellow-bellied, son of tricky dicky Is gonna mother hubbard soft soap me. With just a pocketful of hope. Money for dope. Money for rope..." then swelling to the familiar refrain, "All I want is the truth. Just gimme some truth now" Voilá, DeLaughter had the audience singing John Lennon's Give Me Some Truth like a fully rostered church choir. Alongside the floor, launcher cannons were intermittently shooting confetti and streamers overhead.
TPS is very dramatic with their melodies, instruments, random objects, physical presence, and use of space. Every single thing available is utilized, every space occupied to ensure their message/music is heard. The 20+ entourage of musicians included a 6 member back ground choir, a string section, a full-sized harp, four horns, a flutist, two drummers, and a pair of keyboards/typewriter (perhaps a prop with sound sampler?). Even the arguably, over the top actions of DeLaughter's, like his grand entrance using scissors to cut through the material/screen, I deemed fabulous. (Hey! I was caught up in the moment.)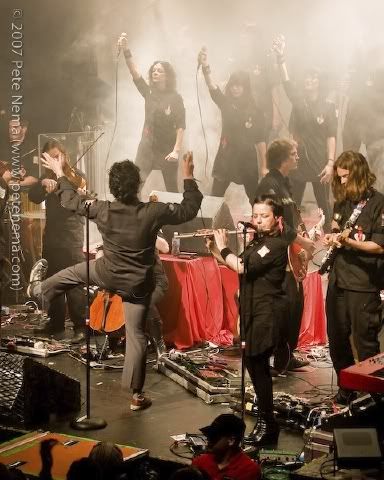 Images from www.petenema.com/concert
With being a somewhat cheesy, drama queen, I was eating this up. Frankly, if I was to shell out a chunk of change to see a relatively uncharted act (TPS was voted 2nd worst act of 2004, just behind William Hung) I would demand my money's worth. And yes, a band can deliver on talent alone, but sometimes one needs some 'shtick' or 'oomph' to feel monetarily vindicated. With such a strong opening, I was starting to think that TPS could do no wrong.
And here's where my minor, morning-after-regrets/ complaints kick in. The sound level was too much, especially given that many musicians/singers on stage. It isn't necessary to have all decibels pushing into the red and thus beyond the limits of the average ear. I wonder how many fans' ears were still ringing two days after the fact?
As well, for a lyric-phile such as myself, there's not enough meat in TPS's song repertoire for me to chew on. ... You don't see me fly into the red one more. You're nuts. Just follow the day. Follow the day and reach for the SUN!!... or ... Hail to the sky. Time to watch the show. Trees wanna grow, grow, grow, grow. Still a man. It seems the time has gone away but all at once you knew your mission well... just do not 'speak' to me. Yes, I know there are a few songs with sentences thrown in that appear to have more substance, but I shouldn't have to search.
DeLaughter's talented back up singers brought attention to his limited vocals. Rather than playing on, adding to, or filling out his vocals, the singers' (and audiences') voices actually amplified and drowned out the lead singer's weaker efforts. That's not to say that TPS has weak vocals. The frontman's vocals just weren't housed and presented properly.
As personable as DeLaughter's audience interaction was, at times it appeared forced and unnecessary. He was trying to whip the already hyped and appreciative audience into further frenzy. (Come on, this is Canada. We don't readily subscribe to frenzy as easily as our Southern counterparts.) He also did his 'Apology on behalf of Americans for Bush being President'. A standard that is so familiar to Canadians it would only capture our attention if an American band didn't apologize for its leader.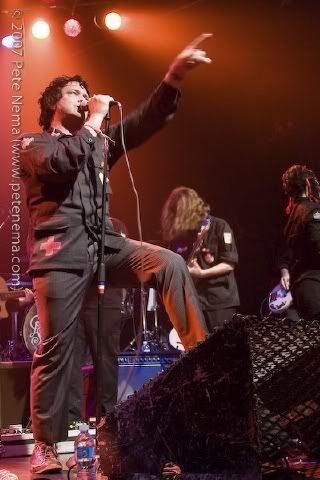 Images from www.petenema.com/concert
Now, after having said all of that, I still feel the concert was excellent. The sheer amount of effort put forth, both musically and physically, allows DeLaughter to be forgiven any weaknesses. The show's encore found the band discarding the army uniforms (with red crosses) in favour of TPS's familiar long robes. Band members wove in and out of the audience while singing the encore songs, including some covers (one being Nirvana's 'Lithium'; very appropriate given the audience's mood altered appearance after attending a TPS concert).
Although I enjoy TPS's cds, it's their live act that peddles the goods. A cold cd with 'good' music cannot capture and contain the band's personality, atmosphere and ambience in the way their live show does. If you are already a big fan of The Polyphonic Spree's music, than it is imperative that you attend a show to fully appreciate the band's offerings. Attending a TPS show is similar to attending a church revival. I am positive some fans were 'healed' of some unknown ailment/malady while in the audience tonight. Never before have I seen a more elated group of people as I did tonight.
8.5/10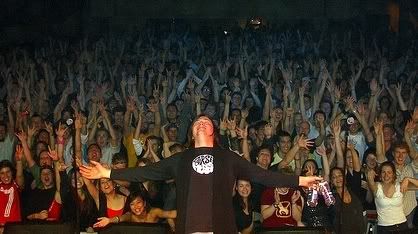 pegasusnews.com
The Polyphonic Spree is currently touring North America to promote the June, 2007, release of The Fragile Army.