Visit Swanktrendz
Category: Vancouver/Canadian Indie Music
Living a few thousands miles east of Vancouver guaranteed that I had never heard of local musician (of ten years)
Marq DeSouza
. And after listening to his very ambitious, fourteen-song, self-titled CD over the last week, I'm realizing what a shame that is.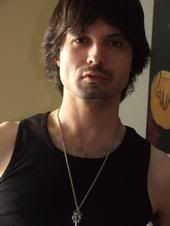 For one, I could tell immediately upon the first few listens that this guy is a true, musical journeyman both as a songwriter and recording artist. Even if a specific song didn't do it for me; after the first couple of plays, I could hear the genius in the details which, I've learned as a seasoned listener, separates the men from the boys, so to speak.And there are a lot of details in the song's respective locations, aptly complementing the individual track they're enhancing, instead of taking away. A good example is on the catchy
You Haven't Changed At All
, where there is a continuous guitar solo throughout a portion of the track. Yet the song is mixed at just the right level so that it doesn't become a distraction. And just as the song is nearing its end, a great layer of harmonica and gentle picking of the guitar strings subtlety trail off in a sonic dance of bliss.
This song is one of the standouts on the disc
and reminds me of a cross between
Blue Rodeo, Tom Cochrane
, and
Lynyrd Skynyrd
. The real beauty is that it's all pulled off without sounding derivative.But make no mistake, this album will conjure up comparisons to a whole whack of rockers from bygone days. As well as the before-mentioned acts, I'm constantly amazed at how closely Marq's voice resembles that of a young
Mick Jagger
from
the Let It Bleed
era (but only on certain songs when he accesses his lower vocal range.This leads me into my one critique of this effort, which lies with in the apparent production inconsistencies which crop up now and again, negatively impacting the overall sound. It is most apparent on the hard rocking
All You Had To Say Was Hi!
, which is a song that has grown on me despite my initial confusion as to why both back up singers' (
Amanda Sonic Guests
) appear to rock in a lower register than their natural range would indicate.I also found that track one's
Prey Becomes Predator,
appears to be unlikely slagging fodder for some pundits who feel this thrash metal tune just doesn't
"fit"
with the rest of the disc.
This song is one of my favorites, in no small part due to the fantastic guitar layering and the solos that leave me shaking my head in respectful awe.
Fair enough, the vocals appear recorded and/or mixed in a way that just isn't congruent with the quality on the rest of the disc. This is unfortunate, because you know
DeSouza's
instincts are too aware for him not to have known that. There's definitely not a lack of vocal ability with Marq, as DeSouza's pipes prove to be first rate, most notably on the cuts
You Haven't Changed, Glimpse of Her
, and the kick-ass
Some $, Somehow.
This track is an impressive offering of balls-to-the-wall rock of the
Cougar/Hip/Stones/Skynyrd
calibre, and it would be an injustice if this song doesn't crack Canadian radio soon as this tune should be topping the summer charts across the entire country.Following behind is the track
Razorburn
which is another Skynyrd sounding tune, especially during the latter half of the song which graces us with some of the most impressive guitar manipulation I've heard since
Slash
was in the
Gunners
.This musical skill is what impresses me the most after listening to, and getting addicted to, this disc. Despite being an independent release, the quality of songwriting and musicianship on this album is comparable to some of the best records released, which is a testament to DeSouza's: talents; abilities; staying-power, and the-all-important-gift - instincts. Marq could steal
Springsteen's
tag of hardest-working-man-in-rock music with his two-year labour of love, which does not disappoint.I don't usually rate the albums I review, but I need to give this disc a
nine out of ten, 9/10
and I hope Marq DeSouza's Self-Titled CD generates enough critical and commercial buzz. that his follow-up attempt will get the financial backing it deserves (ahem...
Bob Rock
as producer)? But if an offering of funding and production assistance is not forthcoming, I am sure Marq will still deliver top quality music on a working man's budget.Great work, man. You have yourself
a new fan in the Eastern part of the country
who can't wait to see what the future holds for you.Check out Marq's sites and see for yourself!
Visit Marq
Marq's Myspace
Album Track Listing

Prey Becomes Predator


Daddy Doom
You Haven't Changed At All
When I Was A Child
Bulletproof
Glimpse Of Her
Some $, Somehow
Razorburn
All You Had To Say Was Hi
A Lucky Man
Some Guy
Where Did You Wit Go?
The Monologue Is All That Remains
Divided Highway