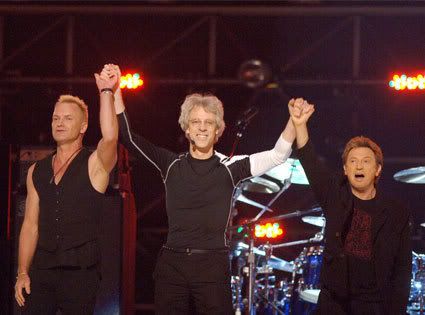 Image from: images.eonline.com
I must admit that my first thought upon hearing of the Police launching a reunion tour was a big shrug and a feeling that they would join the list of "older" bands cashing in on the reunion big bucks lottery. But I would have a different reaction after catching the Police show at the Air Canada Centre in Toronto on Sunday July 22/07.
My expectations were somewhat low after reading initial reviews of the Vancouver show that opened the tour, but I'm old enough to know that one bad review means very little, especially in the case of a band that hadn't toured for over twenty plus years.
But we are talking about one of the defining bands of my generation, those of us between 40 and 50, who grew up as kids listening to the Beatles, Stones, and Zeppelin, and then grew into adulthood listening to the Police and U2. And the Police were as influential and successful as any band would ever dream of becoming. And once they got to the absolute top of the rock summit, they quietly went away, never to appear as touring band until this year.
So as I sat down and gazed towards a beautifully illuminated stage and felt the electricity of a packed house excitingly awaiting their idols and heroes, I must admit I could feel that pump of anticipation building. By the time the first chords of Andy Summer's guitar were ringing out "Message In A Bottle", the whole house was on their feet. And most of us would stay that way for the duration of a very energetic and impeccably played performance that made me appreciate what a truly talented trio the Police are to this day.
It sounds corny and clichéd, but the crowd was taken back 20 years to the height of the band. They looked great and played with a chemistry that showed not only their individual talents, but they truly looked like they were having the time of their lives and that they were enjoying entertaining us. And they did entertain us.
The set list included all of the obvious hits they would absolutely have to play, but they also threw in a couple of surprises, most notably a solid performance of "Regatta de Blanc" that had the whole crowd singing along and dancing like teens in their seats. "Wrapped Around Your Finger" brought about a momentary pause in the energy level of the crowd, but Stewart Copeland's "scientific" percussion playing was priceless.
So much of their music is the soundtrack of a generation's life that it did feel surreal at times watching the show. It was true professionalism and musicianship that very few people ever attain, and every aspect of the show was top notch.
The sound was excellent, especially for the ACC which can have it's moments. The stage was clean, very organized, and beautifully lighted all along it's perimeter. The band looked amazing for their ages… yes Andy Summers is 62 but who cares, music is ageless which the very divergent crowd proved as it incorporated three generations for the most part.
Sting was of course everything you would expect…but happier. It was like he was having a really good day and he wanted to let the whole world know it. In fact they all looked that way throughout the evening, smiling and laughing and having a grand ol' time. Sting even reminisced about the show they played at a Toronto landmark, the Horsehoe Tavern, during their first tour in which only a few people attended. It almost felt like one big love in instead of being just a rock show.
Because it wasn't just a rock show. For many of us, this was our first opportunity to see a band that was the soundtrack of our young adult years. "Every Breath You Take" is the song that makes me remember the birth of my daughter a few months after its release because the words were so fitting, so even though I had heard it a thousand times before, I could feel goose bumps and the hair stand up on my neck because of the emotional connection which does not happen too often, especially today.
So the ambivalence and skepticism of my initial reaction to the Police tour has forever been changed. If they were doing this just for the money… who cares? They played one of the best shows I've ever been to, especially in a large venue, and they made all of us happy and almost giddy and feeling like we were about 20 years younger, even if only for a couple of hours.
I would say that that was money well spent and definitely well deserved. Thanks gentlemen for an amazing show. Hope to see you next time.