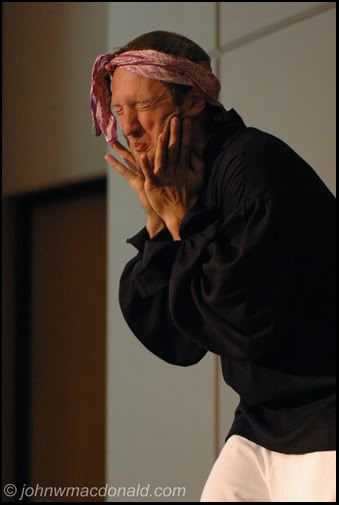 Organic Life forms, I've been getting some interesting curve balls this spring while gigging around the UK. For instance, in a few days I will be at the University of Birmingham for an event co-sponsored by the English and Biology Departments, a day of events celebrating Darwin and Chaucer, those two great beacons of English enlightenment. Besides the Rap Canterbury Tales, they will also have a performance of "The Origin of Species in Dub" (no joke) and I will be unveiling a new rap song called "Natural Selection" (produced by Tom Caruana) in honour of the day, which you can preview online at
Originally they approached Richard Dawkins about being the keynote speaker, but unfortunately he's in the Galapagos and had to send his regrets. Now that would have been a gem in my CV: "Opened for Richard Dawkins". Also, check out the delightful poster featuring funked-up versions of Charles and Geoffrey:
If you want to learn more about the "Origin of Species in Dub" project you can listen to mp3s and such at this link:
In the past week I've had performances in Bath (where the Wife was right at home), Nottingham, Birmingham, Brighton and Essex. Five weeks into my UK tour, I now have only two weeks left here before heading back to Canada for some Fringe Festivals. Speaking of which, I think this would be a good time to plug the upcoming Fringe blitz. If any of you have friends in Montreal (June 7-16), Ottawa (June 17-24), or Toronto (July 4-15), I will be performing in all three and would be happy for people to meet, people to stay with, or especially people to play to. Invite them to come to the show and bring the extended family. Good times, laughs, and thought provocation are guaranteed. You can check out the complete schedule here:
Also, brace yourselves, my brother and I are going back to Edinburgh in August for another full run with an updated version of the show (featuring projected illustrations), and this time we're bringing friends. This came about in a bizarre way, since I had no venue and no plan to return until literally the day before the deadlines closed, but long story short I was offered a choice time slot in a choice venue at the last minute and decided to go for it. I will be performing every night at 8:45 pm at the Roman Eagle Lodge from August 4th - 26th.
I also got a venue for Aaron Ross to preview his album to a world audience, so he will be doing a musical cabaret show every evening as well for the first week of the festival. For those of you just tuning in, I signed Aaron to my label earlier this year and we have been working on his record all spring. It's in the mix process right now and is sounding incredible, so rest assured you will be hearing more about him soon.
So, if any of you know anyone in Edinburgh, I am looking for affordable accommodations for the three of us there for the month of August. To give you a sense of proportion, I recently inquired about renting a three bedroom basement suite in town and was told the festival rate was £4500 for the month. Hmm, time to pitch a tent on Arthur's Seat?
There's a new episode of my Lit-Hop Podcast now posted online if any of you want a little dose of Lit-Hop to tide you over. I've been recording loads of new songs and collaboraions since I've been here, and the verses are flowing like cask ale. Download or subscribe at this link:
I'm leaving in an hour to catch a plane to Germany, where the University of Munster has booked two days of events, workshops and performances. No rest for za vicked.
Cheerio,
baba

Baba in Bath Image from johnmacdonald.com