Richards on Richards, Small to Medium Capacity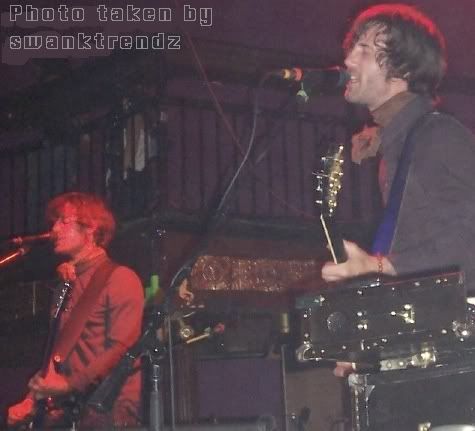 Swank's Superficial observations. As usual, we feel it's our duty to make general, superficial and completely biased observations. (And we certainly aren't changing tradition this late into the game.)
The Richards on Richards crowd was small, with the top count at approximately 100. The male to female ratio was 50:50. Audience response to the bands had the males preferring Stars of Track and Field, whereas the females appeared more enamoured with The Cary Brothers. (Over the years we have noted that male interest in a band appears to be a good indicator of a band's public duration). The crowd was young, averaging 23 years of age (if even). The overall appearance of the crowd gave the impression of a college/university fan base. Definitely not trend-setters (nor followers) with jeans and sneakers being the uniform of choice.
The Stars of Track and Field were the second act in a three band lineup, with The Cary Brothers headlining. Mother Mother opened the show with SoTaF following. I have noted that the following words (lush, dreamy, atmospheric, rich, textured, layered) are often overused by the Media when describing SoTaF's music so I will attempt to avoid the list.
SoTaF is comprised of Kevin Calaba (vox, guitar), Jason Bell (vox, guitar) and Daniel Orvik (drums). The band's presentation is minimalistic, the sparse set allows focus on the music rather than a bells & whistles distraction. SoTaF bring to mind the art-house movie vibe - a tad pretentious, yet undeniably talented.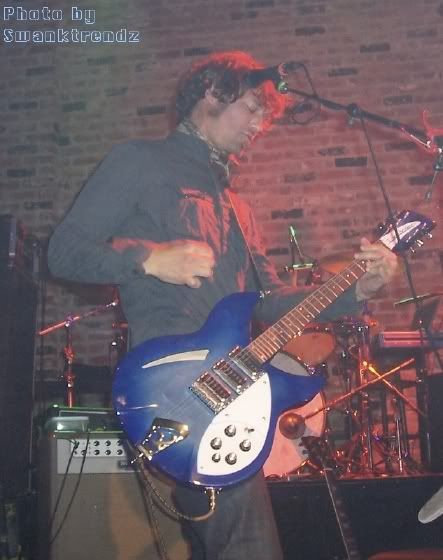 'Melodic precision', I had written repeatedly in my notebook. Kevin Cabala's vocals are achingly beautiful. He emits every emotion possible and his clear, fluid enunciation allowed me to recognize... how obscure the lyrics are! This is one area I had trouble with. I found it hard to fully appreciate the band's musical direction because of the obtuse lyrical content. Then again, it could be me who is obtuse, and the lyric's meaning/intent is very obvious to others. I also found that towards the end of the set, I was wishing for more diversity in the overall tone and tempo.
Kevin and Jason were good at engaging the crowd while staging the songs. Not having a bass player wasn't a detriment to this act, and perhaps even helped to push them more into the media spotlight (media jumped on their decision not to replace their bassist a couple of years ago). Their use, and manipulation of samplers, programmed fillers, and drum machine question the need for a bassist and provide a good marriage to their incredible vocals. Two songs were prefaced with, 'We haven't played these songs before', making the crowd feel as though we were privy to a secret preview. Sometimes I found the herky-jerky moves, jumps from the drum platform, and leg kicks were contrary to the songs' tempos. Jason's enthusiastic playing, and stage antics did not seem to correspond to the songs they were performing. In hindsight, I suppose they can't simply stand and harmonize a la balladeers, as the audience would eventually lose visual interest.
Also, Jason was intriguing to the point where I wish I had a mute switch. At times, his physical contortions and hand sweeps/flutters are so expressive I wanted to watch him perform (on mute) to try and determine which gestures went with which songs.
Superficially, the band's appearance left me with a couple of questions. Why is 'I miss you' written on Jason's guitar? Why do they wear neck kerchiefs/ scarves in every media photo (and apparently during gigs as well)? Why is there a cd taped into the Jason's guitar's soundhole, and how does that affect the overall guitar sound?
Stars of Track and Field are definitely an act to follow. Their sound is reminiscent of Doves, Coldplay, Starsailor, yet is not. I only give these comparisons as a nudge in a potential direction for those newbies ready to take in their concert. If you are expecting a jangly, jarring, ear vibrating rock act, this is not the band for you. If you are looking for a melodic alternative rock act, with an art-house aesthetic, then you're in the right place.
8/10
Set List
Centuries,Arithmatik, Say Hello, In Bright Fire, Dying of Light, Movies of Antarctica, Exit the Recital, With You, This Could Break Your Heart
Upcoming Tour Dates
With The Cary Brothers
7/18/07 Bourbon Street @ Big Easy, Boise, ID
7/19/07 Burt's Tiki Lounge, Salt Lake City, UT
7/21/07 Soiled Dove, Denver, CO
7/23/07 The Waiting Room, Omaha, NE
7/24/07 Varsity Theater, Minneapolis, MN
7/26/07 Schubas Tavern, Chicago, IL
With Smashing Pumpkins
7/27/07 The Fillmore, San Francisco, CA
7/28/07 The Fillmore, San Francisco, CA
With The Cary Brothers
7/29/07 El Mocambo, Toronto, ON
7/30/07 Petit Campus, Montreal
7/31/07 Higher Ground, Burlington, VT
8/1/07 Iron Horse Music Hall, Northampton, MA
8/3/07 Paradise Lounge, Boston, MA
8/4/07 Belleayre Music Festival, Highmount, NY
8/6/07 Bowery Ballroom, New York, NY
8/7/07 Dante Hall Theater of the Arts, Atlantic City, NJ
8/8/07 World Café Live, Philadelphia, PA
8/9/07 Jammin' Java, Vienna, VA
8/10/07 Local 506, Chapel Hill, NC
8/11/07 Smith's Olde Bar, Atlanta, GA
8/12/07 Zydeco, Birmingham, AL
8/14/07 Exit Inn, Nashville, TN
8/15/07 Blueberry Hill St. Louis, MO
8/17/07 House of Blues, Dallas, TX
8/18/07 Stubb's Bar-B-Que, Austin, TX
8/20/07 Rhythm Room, Phoenix, AZ
8/21/07 Belly Up Tavern, Solana Beach, CA
8/22/07 Troubadour, Los Angeles, CA
Bumbershoot 2007
9/2/07 Bumber Shoot, Seattle, WA
View a hilarious video interviewing SoTaF at
Stars of Track and Field Myspace