Swank Home
Rob's Home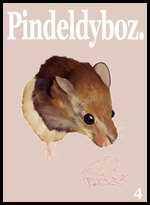 What better way to leave NYC than with another publication?!
Yes, I have gotten a story accepted for publication by the literary magazine
"Pindeldyboz"!!
Issue #6, which should be out in the fall (October? Nov?).
Hurray! It took me about 4 or 5 years to get anything published here so now that iIm leaving it's such a sweet goodbye present.
Pindeldyboz is excellent--I loved issue 4 with the mouse (hamster?) looking like it's poking its head out of the issue.
Pindeldyboz (or Pboz for short) editors have included Entertainment Weekly and Village Voice writer
Whitney Pastorek
, and currently New School MFA-er Alison Weaver (the lovely person who accepted my story!), and Kristin McGonigle.
Some of Pboz's past contributors include one of my faves, Dan Kennedy ("Loser Goes First")--I blogged about his book a few months back, Maud Newton, Tara Wray, Amanda Eyre Ward,Thisbe Nissen, Jessica Anthony among many others.
My fellow Columbian bud and amazing writer
Felicia Sullivan
is also appearing in the magazine with me! It was Felicia, in fact, who recommended I send something to Pboz. Thanks Felicia!
So there you go. Another publication (and in a straight mag no less! *not to lessen the importance of my other
publications
', but it is good to branch out once in a while, right?).
I'm going to try to blog again before we leave (on Aug. 31) for California!
It's been great these last few weeks, saying goodbye (sometimes 3 and 4 times...) to friends, fellow writers,
mentors
, beer buddies (like
vestal mcintyre
,
manuel munoz).
Friday night was
Aaron Hamburger's
goodbye party and I got to re-connect with a friend, Marcela, from Columbia (she's an editor at Publishers Weekly) and her lovely fiancé John Beckman (author of
"The Winter Zoo").
Wow. I've had a great time here in NYC. A tough time, but a great one. I wouldn't change a thing (well... maybe a couple of small things...). But most amazingly, I've surrounded myself with some of the greatest minds and hearts--and learned so much from my fellow writers.
This was an experience iIll never forget. I know I'll be back.