Swank Home
Sashi's Home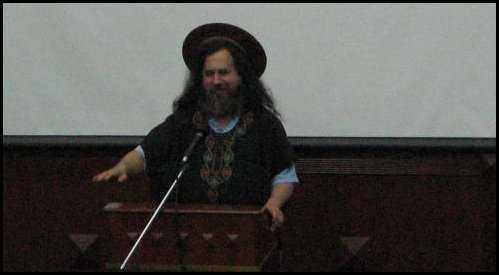 RMS in his infamous St iGNUtious costume
I first heard about the
Seminar on Software Freedom and Danger of Software Patents
from Screenshots. I registered at the link provided and managed to rope my colleagues in as well (which wasn't difficult, considering they were all GNU/Linux enthusiasts as well).
We got to
UM's Computer Science and IT Faculty
around 1.30 pm (the seminar was to kick off at 2) and after being directed to the Lecture Hall, we parked our rear ends at a spot towards the back of the hall.
I was hoping to see some familiar faces in the small crowd - and I did. There was local hacker legend - and one of the co-founders of
Project Petaling Street
-
Dinesh Nair
, who was accompanied by Prema, and there was also the unmistakable (tall) figure of the /
ShaolinTiger
himself.
I did introduce myself to ShaolinTiger - just to see if I could take him on - but I don't think I made any impression. In any case, I'm pretty sure I can defeat him in a fight.*
Anyway, before the much-awaited talk by RMS, we were subjected to a brief presentation on the local
MyOSS
open-source community, followed by an unfortunately boring presentation by
MAMPU
.
(The reason I found it boring was because I'd been to another free and open-source software (FOSS) seminar a few months back, and was subjected to the exact same presentation - complete with near-identical slides too.)
Finally, RMS took the stage and began talking about the dangers of software patents. Before he started, he pointed out that he would divide his talk into two parts: the first part would be non-controversial, while the second would be quite the opposite. Software patents fell under the first part.
I don't want to rehash everything he said - primarily because I don't think I can do his thoughts justice. I do heartily recommend that you check out the
Wikipedia page on him
- a comprehensive list of almost everything you want to know about him and his principles and beliefs.
Mainly though, he spoke on how software patents can cripple and kill software innovation, the problems faced by many software developers in the US in developing new algorithms and programs, the challenges faced by the GNU developers and how big corporations push for software patenting in order to enrich themselves.
The second part of his talk definitely generated more heat, though. He started by explaining his four levels of freedom in relation to software:
the freedom to run the program for any purpose (called "freedom 0)
the freedom to study and modify the program ("freedom 1)
the freedom to copy the program so you can help your neighbor ("freedom 2)
the freedom to improve the program, and release your improvements to the public, so that the whole community benefits ("freedom 3)
from http://en.wikipedia.org/wiki/Free_software
And then he goes on to call on people to stop using non-free software, because it's not just about saving money etc, but it's about the fundamental aspects of freedom that's at stake here. As he says, when people stop caring about freedom, they lose it.
There was also this moment when he discussed his reasons for beginning the GNU project, and he calls it a moral compulsion: It's like seeing someone drowning, and if you know how to swim, and if the guy drowning is not Bush, then he must jump in to rescue the victim. It's just the right thing to do.
Oh, and at the end, Stallman sold some keyrings for RM 50 and gave away a lot of "GNU & Linux" stickers. He even gave autographs - some got charged for it too, if they didn't buy anything - but since I've never been keen on autographs of any kind, I didn't get one.
And that's a wrap.
OK, I'm hungry now, so off to lunch….
* No, I can't.**
** Yes, I can. Don't be defeatist.***
*** Defeatist?? The guy's a freakin' giant!! The best I can do is kick his balls and run like hell!****
**** So who says you gotta fight fair?