Swank Home
Rob's Home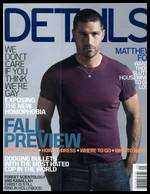 So I'm flipping through the latest
DETAILS
magazine--the one with hunky Matthew Fox (of TVs "Lost") on the cover...
And I see on the cover that it says 'Fall Preview'--and especially, 'What To Read'.
So, naturally I'm curious about what to read.
Well, I take my sweet time, perusing the magazine from start to finish. Checking out the latest trends in fashion, smelling the gazillion cologne samples (urggh. I loathe cologne--except for 'Bowling Green' by Geoffrey Beene--yes, the Geoffrey Beene of 'Grey Flannel' which makes me shudder with horror when I remember the smell. but 'Bowling Green' was a lot better-- it was very lemony and light, though it wasn't selling well I guess because it soon disappeared. Hmm, maybe I can find it on Ebay... anyway, I digress).
So I flip to the 'Fall Books Package' section and lo and behold, on pg. 294, not three pages past a dazzling black and white photo spread of Varvatos, Armani, and Versace's new clothes, there is my dear friend, fellow writer, fellow Columbia MFA-er,
Aaron Hamburger
splashed on the page with four other up and comers musing about their favorite writers! (It must be noted that one of the other writers,
Ben Kunkel
, was also a fellow MFA-er with Aaron and myself, in fact, Ben and I started the same year).
Wow! How cool is that? (Sorry for such a bad scan--but check out the mag for yourself).
Aaron is truly a remarkable person, and I know that many of you who read my blog already know that.
Aaron was the first person I met when I came to NYC.  He had been assigned as my 'email mentor' before I came to Columbia, so I was actually in touch with him even before I moved here. I remember about a month before I left AZ for NYC and grad school, I emailed Aaron asking, "How can I get more money from the school?" (I was completely broke and Columbia gave me barely anything).  His response: "There Ain't None."
When I moved here, Aaron and I met for the first time in the park off of Christopher Street (next to the statues), and then we went for Japanese Food. We went dutch, and I remember I was so poor that I put it on my credit card, just so that aaron would give me his cash (I had NO cash). Another time, Aaron invited me to a party somewhere in the W. Village (Aaron was always inviting me to parties, book parties, readings, museums-- he really introduced me to this city--I'll always be grateful for that, among many other things). But I was supposed to meet Aaron at this party and I did not know the Village at all, especially all of the winding, twisting streets and so I got lost-- unfortunately I was wearing a pair of Diesel Boots (hey, it was my first week in NYC, I was trying to be cool) that gave me blisters because I circled the block there over and over for about an hour and a half.  Another time, this was about a week before school started and I was almost at the end of my rope, financially. I was eating rice with ketchup for dinner and saltines for lunch.  Aaron invited me to a party and I only had $1.50 on me. so I walked to the party-- in Chelsea-- from 113th Street. About 90 blocks or so. this time iIdidn't wear the Diesel boots. iIspent the $1.50 taking the subway home and had a very nice time meeting Aaron's friends.
Aaron, not only a great writer, is one of the most generous people I have ever known. He is always recommending me for something--an anthology, a magazine, a job, a reading. He's also read just about all of my work (as I have of his), and always treats me and my writing with respect and graciousness.
I've learned so much from him these past (nearly) 6 years. Especially about writing. about the importance of revision and editing. About HOW to revise and edit. about being a critic--of others' and your own work. About sometimes scrapping whole chapters and ideas when they aren't working.
I've learned to be a better teacher through his guidance. (He helped me to put my portfolio together when I was applying for teaching at Columbia). I learned how to write a cover letter! I learned what NOT to say in a cover letter.
And I haven't even begun to talk about his writing: smart, historical, funny, cynical, edgy, sexy, provocative, important.
His story collection,
"The View From Stalin's Head"
<(most of which I had the pleasure of first reading in workshops) was an inspiration to me--because I saw it go through revisions and workshops, and Aaron even asked for my feedback--which he incorporated into the work, and I got to see it become what it is today-- a remarkable first book filled with intriguing, real, flawed people and their predicaments abroad. I am so glad to have been a witness to Aaron's accomplishments.
And what accomplishments! His second book "Faith For Beginners" is coming out in October and already getting raves, he is heading to Rome in September for a year as the recipient of the Rome Prize Fellowship. He has a great blog, an adorably cool boyfriend, he publishes regularly (anthologies, magazines, newspapers, journals), he gives readings. Pheww! How does he do it all (he writes constantly, too).
All of this and yet he's still so generous and spirited and funny and warm.
Next to Ted, he's the most amazing and important person I met here in NYC.
Aaron, I'm going to miss you when I move, but I know we'll be seeing each other again-- on bookshelves, on book tours (and maybe magazines-- just wait for my spread in "Interview"!!...someday). Thank you, Aaron, for everything.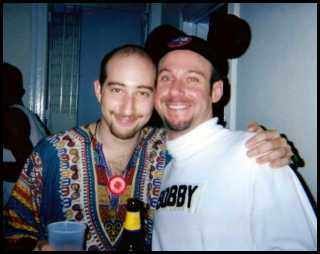 <--Me and Aaron, Halloween circa 1999. I was a Mouseketeer and Aaron was, well... what was he? A hippy? Joan Baez?