Visit Swanktrendz
Image from www.rockiesguide.com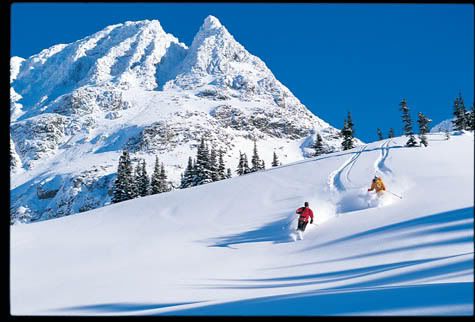 Whistler, BC
- the place to see and be seen, and ski and be skiin' (sorry for that horrible pun - I couldn't resist!).Anyway, I was up at Whistler on the weekend and had a great time. I hadn't been skiing for a couple of years, but was glad that I chose Whistler.If you love skiing, Whistler is
the
place to go. It has, in the past, hosted World Cup skiing events, and in
2010 will be the site of the Winter Olympics
.You can drive right into the village, or take a train from downtown Vancouver - all in less than two hours. The scenery on the way up in breathtaking, and once you get there, the village itself is world class. There are great hotels and restaurants, and lots of shopping.In 1992,
Snow Country
magazine voted Whistler as the #1 resort on the continent. Ever since, celebrities have made it their fave hang out. But the skiing is why we're all there, ultimately, and here is what you get: there are two mountains that you can access directly from the village,
Whistler
and
Blackcombe
. Whistler has 16 lifts, while Blackcombe boasts 17. Both have over 100 runs, some as long as 11 km. (7 miles). It was snowing while we were there, and the forecast is for more snow. The ski season at Whistler easily lasts into March, and if you have some extra cash burning a hole in your pocket, you can go heliskiing even later in the spring.Check it out!