Visit Swanktrendz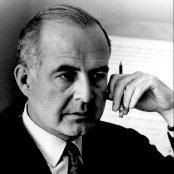 Recently I had compiled lists of my
top ten rock albums
and
Canadian rock albums of all time
, and had the thought of doing the same for the top songs of all time. This could appear to be an almost impossible task given the multitude of great work that has been produced throughout the rock era, and what made it harder for me was that my favourite song of all time is not even in the rock genre, but is actually a classical piece that most of us have heard in various films or television shows, ranging from Platoon to the Simpsons. The life of the composer of the movement
Adagio For Strings
is just as incredible as the composition for which he is most famously known. For one,
Samuel Barber
might be described as a child musical prodigy since he had completed his first composition by the age of seven, and attempted to write his first opera when he was only ten years old. The young lad was worried about the effects of this obvious musical destiny on his beloved mother, and implored her in a letter
not to worry,
and
don't ask me to forget this unpleasant thing and go play football.
One can only imagine how proud and touched she would have been to hear the absolute beauty of her son's creative genius years down the road. By the time he was in his late teens, he had already won an award from Columbia University for his
Violin Sonata
, so obviously this young man had truly exceptional musical talents. It was around this time that Samuel met Italian composer
Gian Carlo Menotti
at Philadelphia's Curtis Institute of music, and the two men forged a musical and personal relationship that spanned over forty years, with their most notable musical collaborative work being the operas
Vanessa
and
Antony and Cleopatra
, although the latter work was one of his rare 'failures' as the opera was universally panned, although musically it was known as some of his finest work. He composed Adagio For Strings when he was 28, and there's a story regarding the composition that I found interesting, and which speaks volumes about the song's incredible effect on the listener. Barber had sent Adagio to the noted Italian conductor
Arturo Toscanini
, who subsequently sent it back to him without commenting on the piece. Although this was interpreted as a slight and annoyed Barber immensely, in reality Toscanini was so impressed with the work that he memorized the entire piece and did not have to look at the written music until the day before he premiered it with the NBC Symphony Orchestra for a radio broadcast on November 5, 1938. This version is so impressive that it was selected for permanent preservation in the Library Of Congress's National Recording Registry in 2005. This composition, which has been described as both simple and beautiful by notables such as Toscanini, evokes a response from listeners that most works from any musical genre seldom achieve. It's no surprise that it was chosen to be played live at a ceremony at Ground Zero in New York City to commemorate the victims of the 9/11 terrorist attacks, as there is no other song in existence that stirs the emotional senses in the way this masterpiece does. Incidentally,
it was voted the saddest classical piece ever by the listeners of the BBC's Today programme
and has been one of the top selling classical downloads on iTunes. It has been included in at least eight Hollywood films including
Lorenzo's Oil, The Elephant Man
, and the earlier mentioned
Platoon
, and is used recurrently on the Simpsons, which guarantees that a whole new generation will be exposed to this extraordinary musical work. As a lifelong lover of music, I hold a deep reverence for those artists that have been blessed with the ability to create the extraordinary, and there is no doubt that
Samuel Barber
achieved this with his splendid composition Adagio For Strings, my choice for the greatest 'song' of all time.