Image from .facade.com
Visit Swanktrendz
For the first time ever,
Sarah Michelle Gellar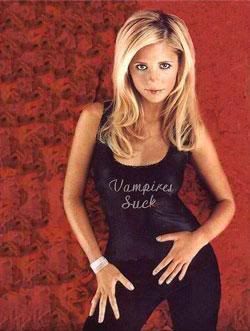 will her first post-Buffy event.Buffy the Vampire Slayer went off the air in 2003. It was a witty and engaging show, with great characterization. The finale was one of the best I've seen - so often the final show cheapens everything, or ends up being a huge let down. Not so with Buffy.And the fans are hungry for more. Hence the reunions, from which our star has been absent.But this year, on March 20 at the William S. Paley Television Festival at the
Cinerama Dome
; in Hollywood whole cast will once again come together. Writer
Joss Whedon
will appear with the show's casts members
Gellar, Amber Benson, Nicholas Brendon, Emma Caulfield, Eliza Dushku, Seth Green
(He's an all-star, now, but not too good to appear at this!), James Marsters (Spike - drool!) and Michelle Trachtenberg.The
PaleyFest
runs for two weeks, and will also feature panels from current shows
Pushing Daisies, Gossip Girl
, and
Dancing With the Stars
, to name but a few.