Visit Swanktrendz
Visit Lisa's Fashion Blog Here
Are you a closet horiculturalist? All garden confessionals go to:
Many women are in love with their shoes, and I'm no exception. With a collection of 300+ at last count, finding the perfect pair of shoes is a borderline obsession for me. Shoes are the ultimate accessory. A woman may be able to leave the house with just a credit card in her pocket, but she almost never makes a run to the store without her shoes. But
what
determines whether I'm going to wear my patent leather pumps or my open toed sandals? The truth is, a handful of trendmakers and legendary shoemakers influence most people's decisions. Here are
my top five picks for shoe legend-makers
.
Sarah Jessica Parker
-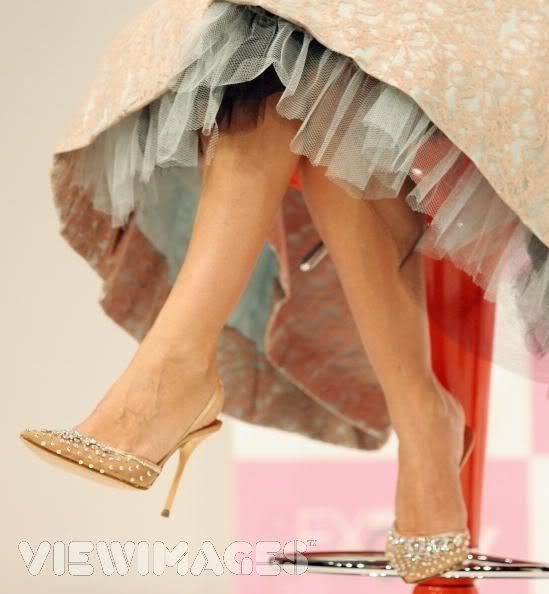 Although she has never made a pair of shoes (to the best of my knowledge), she has had more influence on shoes' popularity than anyone else in recent memory. Although
Manolo Blahnik
and
Christian Louboutin
made the shoes, Sarah Jessica Parker's character, Carrie, in
Sex and the City
made them famous. These shoe designers were popular among stars before the show, but their shoes soon became part of the average woman's vocabulary because of this show.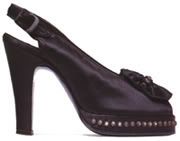 David Evins -
If there is a shoe hall of fame, David Evins has a whole wing of the hall to himself. Evins has been called the
inventor of the pump
. For that alone, he's got a guaranteed spot on my list.
Terry de Havilland -
Terry de Havilland makes some of the wildest, most impossible shoes ever seen. Some of these include impossibly tall platforms, and shoes that have tripped models on the runway. But despite this somewhat sadistic description, he's one of today's most interesting designers. I had the luck to see him in a store several years ago, while visiting London, but I didn't have the courage to speak to him. I think I would have been less nervous about seeing the Queen! (After all, I've never lusted after any of Her Majesty's hats, but I'd kill for one pair of Terry de Havilland's shoes.)
Salvatore Ferragamo -
Ferragamo is one of the best designers ever. One well known story about him is that he noticed that women would buy his shoes, but complain about how much they hurt.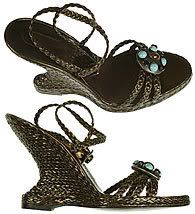 In order to make his shoe designs more comfortable, he actually studied anatomy. For all the women who have ever worn an uncomfortable pair of shoes, this is definitely an appreciated development.

United Nude -
United Nude is my own personal favourite shoe store. Their designs are unlike anything else available. The shoes were co-designed by an architect and shoemaker, and the designs have a very architectural nature. With shoes that appear to float in mid-air and some which wrap around themselves, United Nude offers unique shoes that will definitely influence the future of footwear. Of all the pairs of shoes in my closet, these are the most treasured. Sources for images:Sarah JP: viewimages.comdavid evins shoeworld.com/Terry DeHavilland shoewawa.comsalvator Ferragamo shuzsociety.comUnited Nude phutwear.co.uk/