Econoline Crush, Seether, and Three Days Grace at the Commodore
Vancouver February 1, 2008 Sold Out
All Photos taken by: Kristen Kyd for SwanktrendzThanks to Lisa and Jared from
Wind Up Records
, Swanktrendz was couriered tickets for Vancouver's sold-out
Econoline Crush, Seether
and
Three Days Grace
show on February 1st.I arrived at the
Commodore Ballroom
just after
Econoline Crush's
set ended. (Sorry E.C. this was not a planned boycott, but an overlooked time schedule made by yours truly...)
The Commodore Ballroom's
venue was promptly sold-out and thus, jam-packed. (The venue was sold-out for
both Feb 1st & Feb 2nd
.) As for the crowd... well, they were an article in itself.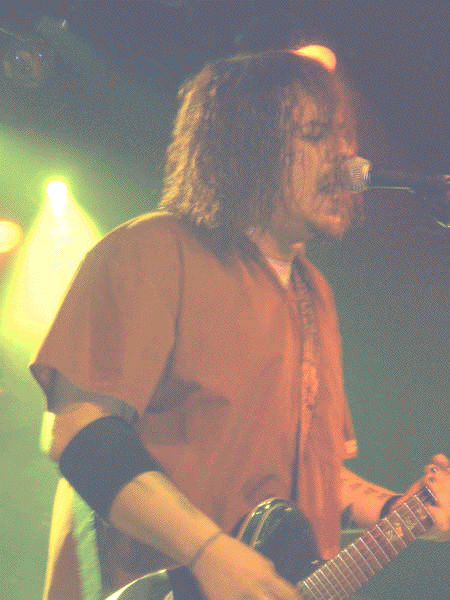 Crowd Observances: the ratio of male to female was 3:1 (which generally bodes well for bands' staying power as Lezah and I have observed.) This crowd was definitely your beer-swigging, jeans and a t-shirt (no stylin' punks here) manly-men. However, it was these men's unabashed appreciation for the performers that grabbed my attention.I have attended hundreds of concerts. Prior to writing, I generally look for something out of the ordinary before tackling my review (to give it a more personal approach). For this concert, the out-of-the-ordinary observation was handed to me on a platter.I have never (emphasis on never) seen an audience so appreciative of, and vocally involved with, as I did with Seether's' and Three Days Grace's audience.This audience sang along, loudly - albeit not badly - to all of the songs up until the last dying chords of
Three Days Grace's
set. The audience sang loud (and clear enough that both Shaun from Seether, and Adam from 3DG, often didn't have to sing entire verses during their songs.)It was incredible, and I felt I was privy to a male-bonding workshop (anticipating the group to break out in
Kumbayah
at any given moment.) In watching how uninhibited these fellows were while belting out lyrics, it was obvious that the fans had connected with the bands, and their lyrics, on a more meaningful level. The songs meant something in the audiences singers' lives.Perhaps it was the intimate environment of
The Commodore
that allowed the fans to fervently get caught up in the music? I wish another concert go'er would step forward and confirm my observations, as I am beginning to question what I saw.When Seether stepped onto the stage, Shaun Morgan's voice sounded clear and controlled. Earlier, I had been listening to Vancouver's radio station, The Fox and Shaun Morgan was a guest, singing an acoustic selection. After noting how good his voice sounded on radio, I was relieved to discover it sounded twice as good, live.As I have mentioned before, I am a lyricist and anyone who write lyrics like:

Before you hedge those bets you placed against me
Be reticent of fortunes they foretell
Your verbal defecation i can't wash away despite myself
Your vanity, it seems, has served you well
deserves our appreciation. Perhaps the sombreness of Shaun Morgan's lyrics explain Shaun as a performer.Tried (with difficulty) to get a picture of drummer,
John Humphrey
after giving of his time when interviewed by Shane Christensen of Swanktrendz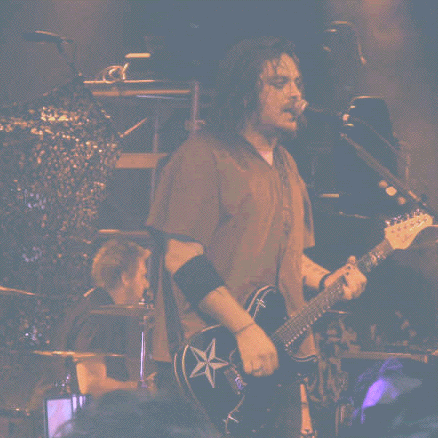 As a frontman, Shaun appears embarrassed almost apologetic within his starring role. He is obviously comfortable enough to write and arrange the music; just not to deliver it. I haven't any idea as to the size of Shaun's performer's ego, but after watching him perform, I'd venture out onto a quasi psychological limb and state he doesn't believe he's deserving of the crowd's adoration.
Also, Shaun is as stingy with his smiles as Kurt Cobain was back in the day. The tortured/ artist persona was making me feel uncomfortable and I am sure both I and Shaun relaxed when Shaun invited Barry and Adam from Threes Days Grace to accompany him singing Broken.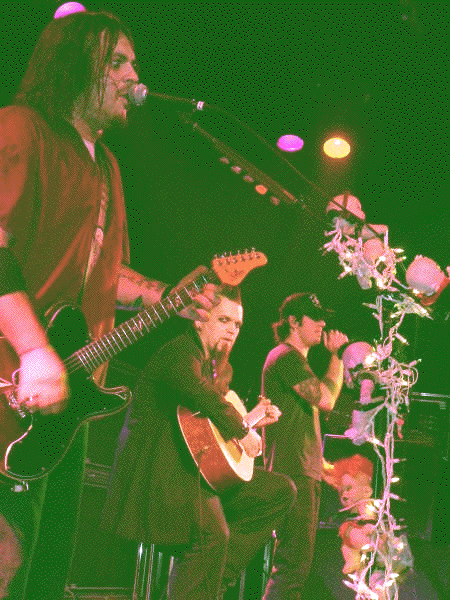 When Seether concluded their set, I was reminded of the entire Peal Jam and Nirvana Seattle vibe. Seether would have been right at home in 1992. Nonetheless, Seether gave us a terrific, yet physically subdued set.Three Days Grace bounded onto the stage, full of energy and humour, and the 'Kumbayah Crowd' eagerly picked up their singing pace. 3DG launched into hit after hit, working the fans into frenzied ecstasy.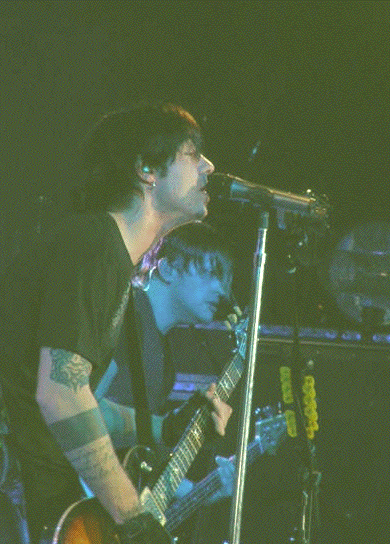 Between the audience vocal participation, the endless spring bouncing/pogo'ing on the Commodore's renowned dance floor, and beer being spilled on us left and right, Kristen Kyd (my every alert photographer) and I left bouncing, laughing, singing and reeking of beer into the night. We left hot, sweaty and content - it felt as though this had been a private performance given at a local basement party. Great concert.