Visit Swanktrendz
To say I was excited about the
Tom Cochrane/John Mellencamp
show at the Air Canada Centre in Toronto would be a big understatement. I've been a huge fan of both these guys for at least twenty-five years now, and I knew that it would be one of the best concerts I would ever have the privilege of attending. To make things even more enticing, the seats I'd ordered online ended up being the best I've ever had for any large venue show, and I wouldn't appreciate how good they were until we actually sat down in them and felt the adrenaline pumping. Mind you, that could have had a bit to do with the fact we even MADE it to the show in the first place, because all of Southern Ontario had been weathering a severe snow storm for at least twenty-four hours. Then we heard through a friend that a concert had been cancelled, and didn't know until twenty minutes later it wasn't ours. Whew! That was a close call. It wasn't until we were walking from our parking space to the venue that I realized a few things. Number one is that I can't remember ever going to a concert during a blizzard. Two is that we can get an awful lot of snow in Toronto, and in a short period of time. And last but not least, this snow does absolutely nothing to stop people from going to major sporting and/or entertainment events because we Canadians (ahem, Central Canadians) are a very hardy and slightly strange breed of animal. And both Tom and John would mention that a number of times during the night, to the crowds obvious delight.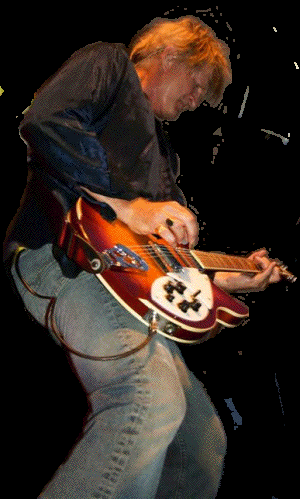 Image from : tomcochrane.info/ main.php As the opening sounds of
Ken Greer's
pedal steel guitar eerily filled the arena, the crowd (at least those that had made it on time) stood on their feet and gave Red Rider a thunderous hometown welcome.
Human Race
was a perfect start to the evening, because it was one of those strange nights all around, mostly due to the terrible conditions outside. As Tom was introducing the second song, he made his comment about how hardy we were for actually showing up at all, and then the band broke into another early hit,
Lunatic Fringe
, which was also well received by an audience that was overwhelmingly baby boomers. The opening songs would be followed by eight more classics including his biggest hits
Life Is A Highway, Big League, No Regrets
, and the band's first hit,
White Hot
. The energy level during the playing of these crowd pleasers was phenomenal, and we had already forgotten about the mess outside. But for some strange reason, both Tom Cochrane, and later John Mellencamp, decided to have a bit of the campfire sing-a-long kind of thing, and it sucked the energy right out of the storm battered crowd that was still pouring in an hour after the show started. One of my favourite tunes from Cochrane has always been
The Untouchable One
, but I like to hear it the way it was originally recorded. A fast-driving Beatlesque rocker. The version he played live included Greer on pedal steel, piano, and guitar, and himself on acoustic, and it didn't do it for me as I felt it was lacking the intensity of the original version. The song
Good Times
followed, and it was more conducive to that type of vibe as it was an acoustic tune originally, but Tom kept it going a bit too long as he insisted on getting the entire crowd to sing the chorus for a minute or two. By the time the band starting rocking again with No Regrets, Life Is A Highway, and the amazing encore (extended rendition) of
Boy Inside The Man
, the whole crowd was dancing and singing; because they wanted to. They didn't have to be coaxed or prodded, and the energy level and crowd interaction was natural and sincere. Tom Cochrane and Red Rider are still a great band and live show, but if I could make a respectful suggestion as a music FAN, it would be to forget the acoustic set as all it does is deflate the crowd's enthusiasm and give us an excuse to run to the washroom and pick up a couple more beers. Yeah, yeah. I know! Drinking while doing a review! Believe me, if any of you Westerners were here for this show, you'd still be drinking you'd be so traumatized by the wintry conditions.
John Mellencamp
opened up his show perfectly, playing everyone's personal favourite (judging by the reaction), as the opening guitar strums of
Pink Houses
sent the entire crowd to its' feet. Talk about a natural and sincere interaction, as the whole building resonated with the voices of thousands singing
Ain't That America.
And we didn't have to be coaxed or directed to do it! All you bands and entertainers out there, take a note of that because it's not just this guy who feels that way, believe me. And I'll expand on that a bit later. Johnny is a real showman who loves to joke and "chat" with the crowd, and he frequently speckles his talks with a lot of words you can't say on television, or in the company of minors. But as I said earlier, that wouldn't be a cause for concern here as it was by far the "oldest" crowd I'd ever seen at any concert I've been to in my life. And even Mellencamp addressed that as he asked if any of the audience was under thirty, and a huge roar went up. I think most people misheard and thought he said over thirty, because I only spotted a handful of whipper snappers in the building and they worked the concession stands. Like Cochrane before him, Mellencamp decided that after playing his first five "lively" tunes, he too would give the band a break and perform a three song acoustic set that had the same effect on the crowd. A lot of us went to the washroom and picked up some more "refreshments". Hey, I wasn't driving! Plus if I'm going to sit through a camp fire sing-a-long, I'm gonna need some alcohol, believe me. So just as I was zoning out and contemplating our treacherous journey home through the ice and the snow, the guitar intro to
Rain On The Scarecrow
rang out and we were all back on our feet again and reenergized as if we had fallen into a life-restoring oasis. That was followed by another band effort which (the title escapes me) was also a rocker that I'd never heard before, and then for some strange reason he went back to the acoustic format for a couple of tunes that were not well received by the crowd at all. It also didn't help that John can get a wee bit preachy and even political at times, and his "discussion" about the Jenna 6 incident in the Southern U.S. received an indifferent reaction from the crowd that really just showed up to rock, especially considering how hard it was to get there. We all just wanted to have some fun John, and I know most of the crowd felt that the politics could have waited for a better time and a more appropriate place. Just ask Bono and he'll vouch for it … even your hardcore fan base can erode real quickly if you spend too much time preaching/ranting, and not enough time doing what the people paid for you to do. Sing! And the proof is in the pudding so to speak, 'cause as soon as he returned to his rockin' ways with
Human Wheels
, the reaction was instantaneous and profound as the whole crowd was up dancing and singing. Again! He followed that with four songs that were absolutely incredible and full of all the energy you want and expect from a guy like Mellencamp. R.O.C.K. in the U.S.A.,
Crumblin' Down, Jack and Diane
, and the encore
Authority Song
had all of us dancing and singing, and sufficiently warmed up to leave the arena to march and slog our ways back to our buried cars for the treacherous drive home. And I think that in many ways the severe weather can affect your mood so that all you want to do is have some fun and rock your brains out, so that you can escape from the reality of living in a part of the country that actually experiences these severe storms. And having an early February campfire sing-a-long just doesn't work for either the artist or the crowd they're trying to entertain. Because in both these cases I would rate the "rock" part of the evening as absolutely perfect, and the acoustic sets as absolutely awful. And I feel terrible for saying that because I respect and admire both of these acts immensely. But I also feel that as a paying member of the audience that drove through the conditions we did, the least any artist can do is give the people want they want. And it was clearly obvious that the crowd at the Air Canada Centre on Tuesday, February 6 just wanted to R.O.C.K. in the A.C.C.
If I was to rate both acts, I would give them a five out of five for the rock sets, and a one out of 5 for the acoustic sets that only served to deflate an otherwise energetic and entertaining set list.
And that's too bad, because they're both extremely talented entertainers that should be experienced enough to know what works and what doesn't. Besides, if I want to spend my time drinking and using the washrooms at the ACC, I'll just go to a hockey game where that's about the most excitement you can possibly get lately. Ouch!!!
Photo from Starpulse.com