Visit Swanktrendz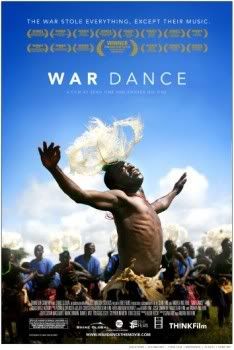 This world is filled with remarkable people and inspiring tales which you can find all around you, if you look hard enough. Sure, there's a lot of negativity and depressing stuff in the news most of the time, but today I got lucky when I came across an article that is both unique and uplifting.I'm referring to the story of a fascinating new film called
War/Dance
, which was the winner of the 2007 Sundance Documentary Directing Award, and which is already getting serious media attention due to its
subject matter
.
War/Dance
is an inspirational tale of a group of children from the Patongo Primary School in Uganda, who are overcoming great personal pain and trauma as survivors of civil war, and who are now given the opportunity to take part in an American-Idol styled contest in their country.To say that this is a
'big deal'
to these kids and their experiences is a huge understatement. This movie proves, beyond a doubt, that children are the same all around the world in that they need to have the chance to be kids and have fun.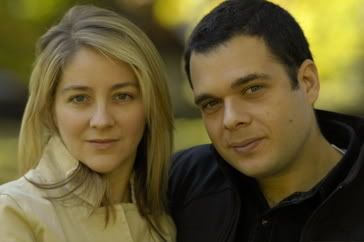 The film's directors are a husband and wife team,
Sean Fine
and his wife
Andrea Nix Fine
, and they were recently blessed with the birth of their first child. But instead of letting their newest addition deter them from this undertaking, Sean continued on to the refugee camp and stayed for the duration of filming; communicating daily with Andrea, who remained at home in the U.S. while providing him ideas and suggestions from afar.One of the most profound approaches the Andrea suggested was to have the children look directly into the camera as they spoke about the atrocities they had endured. Earlier attempts to simply interview them failed. These children are similar to other war survivors in that they seldom speak amongst themselves about the evils they've witnessed and experienced. However, by speaking directly to the camera the children felt like they were telling the world about their ordeal, and the childrens' memories' floodgates opened.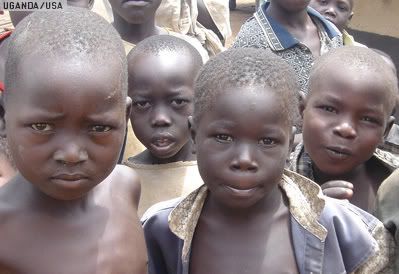 Another of Andrea's ideas was to focus on existing beauty. That beauty could be seen in the natural surroundings of a gorgeous part of the world which has suffered terribly due to internal conflict. Because of this conflict, often the natural beauty of the country is overlooked. Equally poignant is the beauty of the youth who make up the story, and how they are captured on film as they're
"making the journey to a peaceful place",
as Sean puts it.The one ingredient of this film which captured my interest immediately after I first read about it, was the importance and impact that music holds in the movie. Many of these children had never played an instrument of any kind before, but that did not deter their enthusiasm for learning in the slightest way, shape, or form. Throughout the documentary, music is the one constant that offers hope for the future and gives the participants an opportunity, they would have never have been previously allowed, to share their experiences under war conditions they've had to endure the majority of their young lives.The film is the work of a non-profit production company,
Shine Global
, which is donating seventy per cent of the project's profits to various Ugandan agencies which help these kids in a number of ways, including nutritional and scholarship programs for the children. There has also been an outpouring of generosity from other charitable groups after learning of
War/Dance's
efforts, which has resulted in bikes and musical instruments going to
Patonga
, where the Fines are headed in February to debut this film to the children it stars.
War/Dance
has been nominated for an Oscar, and is currently available in limited release throughout the United States, with foreign markets hopefully to follow as this is one film I am anxiously awaiting. Many people will want to see this film because it is a truly uplifting presentation; done exceptionally well judging by the acclaim it has already received.The Fines have made a impressive name for themselves in the making of
War/Dance
, and have been offered the next task of producing and directing a feature documentary
on the effects of addiction in the U.S.
, in collaboration with
Joseph Califano Jr.
of Columbia University. I don't know if they can succeed in turning this story into a 'feel-good' film, but it will serve as a relevant and important piece to many people and to society in general. I'm not a big watcher of awards shows, but I will definitely be rooting for Sean and Andrea on Oscar night. I hope that they achieve further and future success with their talents and abilities, which they apply in a very positive and uplifting way. As a result of Sean and Andrea's efforts, this world is becoming a better place in the process; a noble and commendable ideal that we'd all like to ascribe to.