Visit Swanktrendz
There is a story circulating through various media lately that is such an inspiration that I'm sure a movie will be made to chronicle this incredible tale of human struggle and eventual triumph over adversity.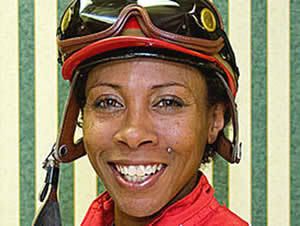 Sylvia Harris is a 40 year old African American jockey, who won her first race in December 2007. That is a rare feat in itself, but what makes this story truly remarkable is the journey along the way to realizing this achievement.
For starters, Sylvia was diagnosed as being bipolar at the age of 19, and her once stable life started to unravel shortly afterwards. Her condition would plague her throughout much of her adult life, and was debilitating to the point that she could not even care for her three children, resulting in her periodically losing custody. Occasionally she was hospitalized due to her condition, with various periods of stability following her psychotic or depressive episodes.
Obviously holding a job was difficult at best and impossible most of the time, and she ended up on welfare trying to support 3 kids as a single mom. As a final test of her will and spirit, she ended up homeless in 1999 and living in her car for a couple of months, relying on soup kitchens in order to stay alive. By this time she had given up custody of her children due to her condition, so she was completely alone and estranged from all her family as she struggled to survive.
Fortunately for her, life would turn around slowly, but she was still faced with many roadblocks and seemingly impossible odds of surviving, never mind succeeding in realizing her dream. When she was given an opportunity to work at a stable at the age of 35, she informed the owner of her desire to race. This gentleman and his wife took a chance on Sylvia and provided her the opportunity, but shortly thereafter both he and his wife passed away and the farm was shut down.
Following that setback, Sylvia ended up moving around various locations in the U.S., living wherever there was an opportunity for her to work with horses. She was fired after 3 days at one stable for not working fast enough, and laughed to herself at thinking that she was not even good enough to shovel horse manure.
But she struggled on and continued working odd jobs and travelling to where there was work, and even looked at coming to Canada for an opportunity to ride. As was typical in her unforgiving life, she encountered a roadblock due to paperwork not being filed and was turned back at the border.
A series of events led her to an opportunity to ride in Chicago on a horse that no other jockey wanted due to its arthritic knees, and this would prove to be the turning point in her riding career and life. Wildwood Pegasus would place third in the first race they ran, but ended up winning his next two after that, allowing Sylvia to realize a lifelong dream.
She is now in a place that at times seemed an impossibility, and a number of media outlets including the New York Times have run articles chronicling her incredible story, which is great to see.
Because Sylvia Harris is an inspiration and testament to the human spirit, and a person we can all be proud of, regardless of our race or gender. I cannot wait to see the movie!