Swank Home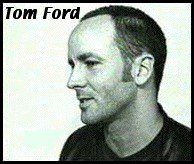 Tom Ford is some kind of man. A former model, in his late 20s, Ford was hired by the nearly bankrupt House of Gucci and within a short time was almost fired by Maurizio Gucci for being too 'trendy'. However, in' 94 Ford was named head designer at Gucci and has since turned the company around.
His first collection was brought out in '96, and there was an immediate 89% jump in profits. That year the company made $169 million. Since then, Ford and Gucci has blasted off into the stratosphere. Gucci has acquired the YSL line from Louis Vuitton, been named head designer of that organization as well, and today the Gucci name is worth $4.3 billion.
A native of Austin, Texas, who spent many of his formative years growing up in Santa Fe, New Mexico, Ford is something of an anomaly. I can think of no other Texan who has turned fashion into an art form.
His understanding of lines and proportion are reflections of what he learned at NYU and Parson's School of Design, where he studied art history and architecture respectively. The ability to capture the momentary quality of fashion, and the bravado to inject a sexualized aspect into it possibly harken back to his days as a Studio 54 regular, where he was an acquaintance of Andy Warhol. However, it is the fact that his clothes become instant classics; the understated style, the appreciation of luxury, the hard-edged, jet-set look that is so often presented in a monochromatic palate - that is what has made Tom Ford a fashion superstar.
In the spring of 2004, Ford left Gucci to pursue a career in film.