Swank Home
Swank's tblog Home
Swanktrendz Myspace Home
Interview with Story of the Year: Ryan Phillips and Adam Russell
By: Christine Albrecht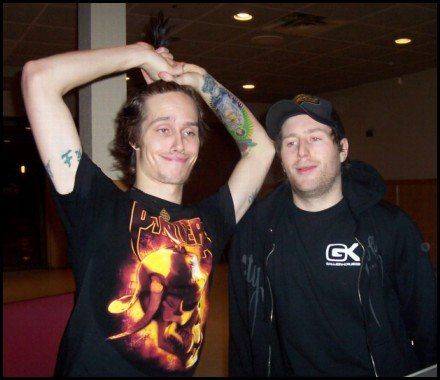 Ahhh yes, faces only mothers could love...
Although our interview with Story of the Year occurred last Sunday (January 8, 2006) I am late getting it out for several reasons:
Reason number one - I generally like to give the band 48 hours to review and add to or correct misinformation, but I forgot to get the band's contact email (as they're on the road).
Reason number two - I enjoyed the interview so well, too well in fact, that it was hard to write from a more objective view. I felt as though I had known these fellows forever and I can honestly say that there were many questions I did not get to just because of our general 'chit chat'.
Reason number three - I had difficulty getting their tour schedule through technology glitches (thoroughly of my own doing).
So, I apologize to Ryan, Adam, Dan, Philip, and Josh up front for not getting their final thumb's up for the interview, but hey, Adam and Ryan were just as guilty of being too comfortable as we were.
Story of the Year
consists of:
*
Dan Marsala
– Vocalist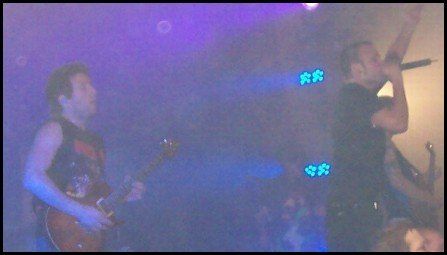 *
Ryan Phillips
– Guitarist #1 (Lead)
*
Philip Sneed
– Guitarist #2 (Rhythm & Melody)
*
Adam Russell
– Bassist
*
Josh Wills
– Drummer
The band was fresh off a busy summer and fall headlining tour, and now continues to support its latest cd release with a slew of new 2006 concert dates.
The interview was almost a 'non interview' as I could not get ahold of the Maverick label to supply Swanktrendz with the band's contact number, press/publicity agent (Jim Baltutis), manager etc. I was even getting bounced from Maverick to Warner's and back; I was beginning to wonder if
Story of the Year
even existed anymore.
At the concert venue (Croatian Cultural Centre) I managed to discuss the lack of label communication with SOTY's road manager, Timmy; everything was set into place and within 20 minutes of their closing song, Lezah and I were discussing Story of the Year's adventures with Adam Russell, and the oft quoted Ryan Phillips. What was to be a quick 15 minute Q & A turned into a 45 minute session with a lot of laughs. Without a doubt, this group is personable and humorous and was one of the more entertaining groups I've talked with.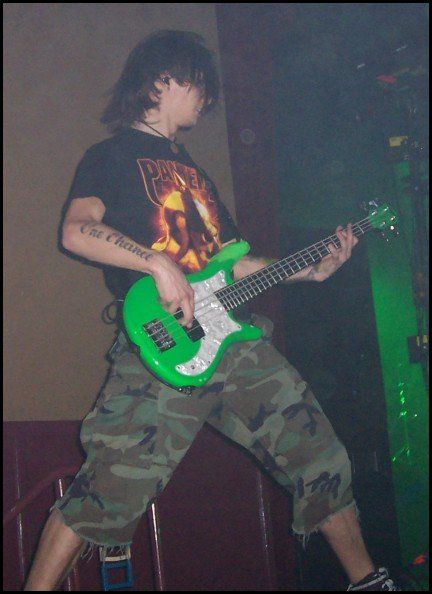 Whilst sitting in the back room waiting for our Q & A, Lezah and I managed to observe that Josh Mills (drummer) was extremely 'aggravated' with his performance as his thumb was swollen out of proportion and he felt he didn't hit his stride until several songs into the set. However, this was completely unnoticed by the audience (including myself). Ryan was annoyed that a fan who body surfed right up and on to the stage was turfed by security. Ryan didn't feel that was right. And of course, there was the obligatory fainted fan receiving first aid a few feet away from us. As she moaned and sighed while her vitals were being checked by paramedics, there appeared to be a miraculous recovery (or perhaps a lead in to another dead faint) as she excitedly received a signed poster and concerned condolences from Adam and Ryan. It was amazing to see the adoration factor kick in with the sincere and concerned acknowledgment of her situation, from two band members. This made me aware of a rarity with popular bands; unlike some other acts I've interacted with, Story of the Year truly appreciates and embraces their fans. Throughout our interview, they often expressed how much their fans and audience meant to them and they had no airs about why they were here. They recognize their audience and the fact that the band's popularity continues as a result of the loyalty of the fans.
Another example of fan awareness was when our '15 minute' interview stretched toward the 45 minute mark. Ryan was concerned about the fans waiting in the rain by the tour bus. He and Adam explained that they had to get out there soon, as that was 'a long time to wait' for the fans. 'Our fans our loyal', stated Ryan. 'In fact, male fans in particular are loyal and always stick with the band'.
During the initial part of the interview, we recapped some of the milestones during Story of the Year's climb to the top.
Beginning in 1996, 'BigBlueMonkey' made the club circuits in St. Louis, Missouri. The BBM name was dropped in favour of 'Story of the Year' back in 2002 because of a 'Blues group having the same name'. However, Ryan also intimated that they simply 'did not like the name' and were glad to be rid of it (as well as the former singer). Swanktrendz had to agree with the name change - BigBlueMonkey is not the most spectacular representation of a thrash metal rock band. (Now, some of you may be wondering how a former emo-power rock band could be considered thrash metal, but their latest cd,
In the Wake of Determination,
released October 11, 2005, pulls away from their usual formula, offering hard driven chords and lyrics - 'We Don't Care Anymore' and 'Jarhead' being prime examples.) Changing producers from John Feldman (The Used) to Steve Evetts (The Cure, Hatebreed) may be the reason why the album debuted at No. 19 on the Billboard 200 album chart.
When we asked when and where they write their music, Ryan replied that unlike others, he 'enjoys writing on tours' and that 'it just comes to' him. 'I love seeing different cities and sights and I feel inspired to write'. Adam didn't appear as enthusiastic as Ryan about writing while on the road, but does share lyric writing duties with Dan when motivated.
Dan (former SOTY drummer) became the lead singer and the present SOTY lineup remains cohesive and fresh. 2002 was a powerful year for the band due to the culmination of several events, beginning with the winning of a radio concert which allowed them to open for the Headlining
Goldfinger
on the second stage during Point Fest. (Coincidentally, Goldfinger had played the same Vancouver venue just days previously). They went on to saturate the crowd with SOTY merchandise at Point Fest; managed to be signed with Maverick Label and began to record their cd, play the Viper Room, and scoop the opening position for Linkin Park's 2004 tour. Which reminds me - I never did get the chance to clear up the story regarding a fracas they got into with the roadies of Godsmack during the 2004 tour. The so-called 'Went for Ice Cream together' resolution that their press released was ... well, yeh right ... give me the real story.
Another issue I wanted to address with Ryan and Adam was the lack of proper promotion from their label, Maverick. As far as I could see, this was a band seasoned and prepared for arenas, large venues, etc. I heard of SOTY's Jan 8 concert from a 20 year old, named Sam. (I had asked Sam if there were any good acts coming to Vancouver and he mentioned SOTY and talked about seeing them when they toured with Linkin Park.) Word of mouth is fine when you are a struggling new act, however, it can be a death knell for an established act. In fact, the Vancouver venue was not even close to being sold out and the lack of merchandising was lamentable. Merchandising is a huge source of revenue for touring acts, and although they did have enough t-shirts on hand, the lack of cds available for purchase was simply not acceptable. Again, Maverick dropped the ball with this arrangement.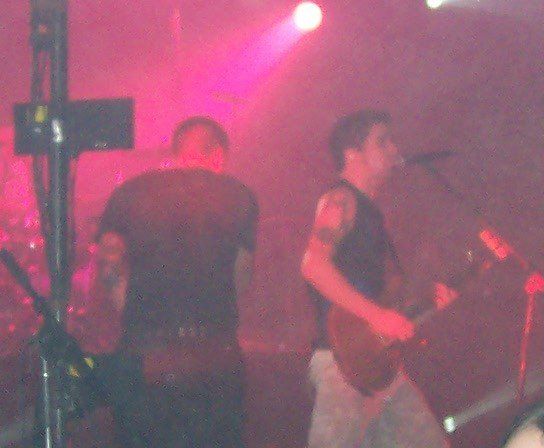 Adam's birthday is Dec 8 (he recently turned 26) - being the same day that Dimebag Darrell was murdered in 2004. Adam pays homage to Dimebag by wearing his Pantera t-shirt while on tour. As Adam noted (when we were discussing fans' loyalty to bands) if Dimebag were alive today, Adam would have no problem 'paying thousands of dollars just to see him play'. Adam also gives a nod to the band, H20, with his lyrical tattoos 'One Life, One Chance'.
The boys are a mixture of kickass rockers, bickering (in a been-together-long -enough way) buddies, a solid finish-each -other's-sentences relationship, and basic, goofy pranksters. They find humour in just about everything and it was hard not to get caught up with their antics. They have a good sense of humour whether it be poking fun at their soundman or poking fun at themselves. As Ryan announced to the concert audience, 'Dan's mom is a MILF', to which all band members agreed. I wonder if Carleen (Dan's mom) is aware that she is part of tour conversation (albeit in a wayward complimentary fashion). That and simple statements such as, 'I'm warning you, my feet smell like diapers - baby diapers that is, as opposed to... you know, adult ones'. Adam mentioned watching Brokeback Mountain and then went on to encourage me to write that Ryan likes cowboys, too. Ryan was oblivious to this, answering a separate question at the same time.
When I asked them if they honestly enjoyed touring the smaller venues (such as the Croatian Cultural Centre) they insisted they enjoyed the all ages forum as they believe that is their original fan base. We discussed some of the fans present who appeared young and a security guard interjected that there was a 6 year old in the audience. (Youngest I've heard of!) Adam and Ryan went on to explain how important music was to them at an early age (averaging 10 to 11 years old). At that age, they were listening to Megadeath and Pantera and they believe that whatever you're listening to at that age, largely influences what you'll be playing if you end up in a band of your own.
I also asked if there was ever a time that they hated being on the road and hated touring. Ryan laughed and said, 'Are you kidding, we have the greatest job ever' and the only time he was 'sick' of touring was when he had '104 degree temperature in Japan'. They both spoke with such earnestness that one had to believe them. I suggested that they stick with this present SOTY lineup as each individual is equally important to the band; they appear to gel/ interact well (at least when a roadie isn't tossing guitars at them - Ryan will affirm what I mean) and their presence, as a whole, is commanding. They agreed that they felt this was the right lineup, and have no intentions of anything (or anyone) leaving for the duration.
I asked Ryan and Adam to mention some bands that they felt should have some media acknowledgment. Adam mentioned
Monty
from Providence Rhode Island - and Ryan made mention of
He is Legend
Quick chat about Adam and Ryan's communication style. As I was asking questions I noted that both Ryan and Adam had different ways of retrieving information. Adam, was a definite visual guy - the one that can "see" the big picture, whereas Ryan was more of a kinesthetic person and I jokingly said, 'You were probably the kid in the class breaking pens and taking things apart to see how they operated while the teacher was teaching', whereas Adam was staring out the window visualizing bigger things to come, perhaps including future lyrics. Ryan laughed and said, 'Matter of fact, I was the kid eating the crayons and pissing on the radiator'. Yep, truly a kinesthetic guy. Thank God he plays guitar - who knows what mayhem he could cause.
When I asked what interview question annoyed the group the most, it was a definitive 'So... what is the story of the year?' Lezah and I just looked at each other as this was most asinine comment we've heard, and frankly, one that would never even venture into our line of questioning.
The guys were getting anxious about their waiting fans so we drew the interview to quick closure. It was a pleasure meeting them and I look forward to this cd breaking new ground (and new fans) for them. They were a pleasure to interview and gave us a laugh as well. Days later, I mentioned to a friend that I was concerned that perhaps the 'thrash metal' genre was coming to a close, when he responded it was quite the opposite. As music is cyclical, he figures speed metal music will be coming back to the forefront aka Dead Kennedy's style. If that is the case, then
Story of the Year
still have quite a few years left in them.