Swank Home
Kirk's Home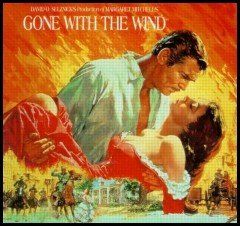 There has been a definite bias toward film in The Wasteland since its resurrection last month. Fitting then that the first bit of sustained telly I've managed to sit down and watch, since practically the start of Summer, is a programme about film. Channel 4's misleadingly titled
The Ultimate Film
showed in two 3-hour installments, further satisfying our modern-day addiction to statistics and lists of all kinds. There is some fatigue with this kind of thing now; there has been so many of them, and most of them are useless as documents as they are voted upon by so-called experts, who naturally harbour their own prejudices and favourites. This list differed in that it claimed to be based on actual bums-on-seats figures since the recorded beginning of cinema in the UK. A very, very different thing to box-office takings in hard currency, whether adjusted for inflation or not.
We British are notoriously eccentric, and the films we have flocked to see more than others over the decades reflects that quite plainly. For a start about 50% of the list is comprised of British films, with films like
The Full Monty
statistically outranking all of the Star Wars films barring the original! 50% are also from 1965 or earlier, with a glut of films the majority of people under 40 haven't even heard of populating not only the lower reaches of the list but the top twenty as well! Historically it is easy to see how post WWII escapism was in high demand, and it is easy to imagine the appeal of the movies as a main source of entertainment before television was a regular accessory in every home. Britain's hottest stars ever? Think of ten names and you still won't get it... Dame Anna Neagle and Michael Wilding have a handful of films in the list, the highest being 1948's
Spring in Park Lane
at #5, which attracted 20.5 million people (half the population of the entire nation at the time)!!! It truly was a different age. Of the modern era,
Titanic
is the only film post 1980 to make the top ten! These and many more surprises await. Of the overall winner... Well, no prizes for guessing. Even my mum saw
Gone With the Wind
three times, and that is saying a lot. Personally I think it is boring and, frankly, couldn't give a damn about it, but you can't argue with the figures: an estimated 35 million tickets sold in the UK alone. That's not just amazing, that's staggering... Long live the movies!