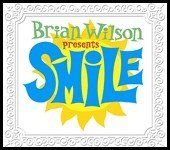 Swank Home
Queen Elizabeth Theatre, August 29/05
It certainly was strange to see a large theatre filled to bursting with people eager to hear the live performance of an album that for so many years was shrouded in myth, hidden away for the most part in the obscurity of Capitol's vaults and of interest, I thought, to fanatical Beach Boys fans only. I didn't realize that so many music nerds lived in Vancouver. The critical acclaim for the 2004 release of Brian Wilson's Smile - essentially a remake of the original 1966 version with newly-created bridging sections to fill some holes left when the project was abandoned - and the receptions of audiences much like the one at the QE, must vindicate the long nightmare of Smile for Wilson. Smile was the album that cemented his reputation as a "genius", but also precipitated his withdrawal from music-making. The ructions it caused within the band never really healed and they never recovered from the loss of critical cachet in the sixties - try as they might to be cool, it was like your pipe smoking dad wearing a kaftan. It has been both a bad memory and a millstone for Wilson - no wonder he hated and feared it!
Every self-respecting Beach Boy/Brian Wilson fan knows the legend of Smile. It's the holy grail of pop music history. Many gratified their interest (also known as mania) in Smile through... ahem... bootlegs or made do with the sections of Smile presented on the 1993 box set Good Vibrations. They hoped that Capitol might one day issue a box set much like the Pet Sounds Sessions; but knew in their heart of hearts that they would never hear Smile as intended by Brian Wilson. However, with the encouragement of his wife, Melinda, the musical assistance of Darian Sahanaja and the creative input of original collaborator and lyricist, Van Dyke Parks, Wilson was finally able to overcome his distaste, conquer his fears and realize his original and unique vision. Having previously heard only snippets of larger pieces or instrumentals without vocals with no sense of context, I don't think many fans were prepared for the revelation of hearing Smile as a complete work. Finally, to hear everything as Wilson had intended it: with completed vocals and everything in its proper order - what had before seemed confused and episodic finally merged into a beautiful whole. At last, fans could hear what Brian Wilson had heard almost forty years before - not without a little chagrin that such a wonder couldn't have been released in '66 (It would have come out before Sgt. Pepper's and one can only speculate how the musical landscape of the sixties might have been changed; would it have been a revelation or just an anomaly?).
So, the multitudes came to prostrate themselves before the temple of Smile and you could feel the keen excitement at the theatre - all these fans that couldn't believe their dreams had finally come true, milling around in an exhilarated daze. Although there were lots of old fogeys, there was also a sizable contingent of twenty-somethings and lots of children, as well. This was Brian Wilson's first concert in Vancouver, as a Beach Boy or otherwise, and the audience meant to enjoy it - "enthusiastic" and "excited" are two words that pop to mind (as does "frenzied"). Lezah and I took our seats, and much to my shock the concert started at 8:00 on the dot - much to the shock of others too, as people were still finding their seats three songs into the show.
Although the concert was billed as a Brian Wilson's Smile, the first half was meant to whet our appetites. After a frankly over the top, rabble-rousing introduction, an almost frail Brian Wilson shuffled on stage and sat himself on his stool in front of his seldom-played piano and the band kicked into Do It Again. The songs were chosen with an eye to both BB enthusiasts and curious on-lookers alike. So mixed with the relatively obscure "The Little Girl I Once Knew" or "Breakaway", there was a "Help Me, Rhonda" or "California Girls". Of course, the song selection was heavy on the sixties material: "At the Drive-In", "Please Let Me Wonder", "Then I Kissed Her", "When I Grow Up To Be A Man", "Dance, Dance, Dance" and "Do You Wanna Dance?", etc. with "Sail On Sailor" thrown in for good measure. As a BB nut, however, I had hoped for something from Wilson's mid-seventies purple patch - it would have been great to hear the large band tackle "Honkin Down the Highway", "The Night Was So Young", "Had To Phone Ya" or his masterpiece "Til I Die". Still this is just the carping you get from BB nuts like me. Judging from audience reactions, no one else seemed to miss them... the fools.
After a brief intermission - ah!civilization - the band and Wilson returned to the stage for Smile. Like the album, it was performed in three sections with the songs flowing into one another. As much as was possible with such an enthusiastic audience, applause was discouraged until the end of each song suite. One amazing thing about Smile is that an album, as much a child of the studio-obsessed, album-oriented mid-sixties as Pepper, that took almost forty years to complete, saw its original debut as a live performance. An integral part of this success is his incredibly talented band. Along with Sahanaja, there's Scott Bennett on keyboards; guitarists Jeffrey Foskett, Probyn Gregory and Nick Walusko; Bob Lizik on bass; percussionists Nelson Bragg and Jim Hines; Paul Mertens on woodwinds; and vocalist Taylor Mills. Everyone except Mertens and Hines added vocals in a close approximation of that classic BB harmony sound and supported Wilson whose voice isn't what it used to be, having been weakened by his former abuse and neglect (all that smoking lowered his range and control). This band is augmented by the eight-strong Stockholm Strings'N'Horns - that's nineteen people on stage including Wilson (even then, some of the band's multi-instrumental abilities are called upon). It was absolutely amazing to see Smile performed live: the complicated, multi-layered vocals, the both spare and dense instrumentation, the breakneck switches from simple pop to oddball avant-gardism. It was all impeccably performed and the audience ate it up entirely. The band looked to be having the time of their lives up there too.
After Smile, there were two encores. the first consisted of band introductions performed by the very funny Jeffrey Foskett and a selection of the BB's most popular moldy-oldies ("Fun, Fun, Fun", Surfin' USA", for instance) and a enthusiastic cover of "Johnny B. Goode". The audience which had stood up for "Good Vibrations", the final song of Smile, remained standing throughout the encores, enthusiastically shaking their aging tail feathers (crutches were available at the concession) and singing along (one man directly behind me, quite loudly). The second encore was made up of a beautiful gospel-tinged song (which I didn't know) and a rousing "Love and Mercy" from his first solo album. After thanking the audience, Wilson shuffled off stage for the final time that night to uproarious applause - although some parts of the audience, conditioned by years of going to hockey games, had left early to "beat the rush"..
I'd like to thank Brian for going out on the road with Smile and making his and so many of his fans dreams come true. Thanks, Brian.