Swank Home
Heretic's Home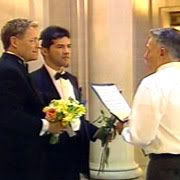 Gay marriage has, is and will probably continue to be a hot topic in the United States for some time to come and California has not avoided the issue as noted
here.
The public voted 60-40 to ban state and local recognition of gay marriages in March 2004 but the latest controversy involves a vote by the state senate to recognize gay marriage and a legal battle over the wording of an initiative that bans not only gay marriages but other forms of recognition short of it. Religious conservatives hope to place the issue before the voters on the June 2006 primary ballot.
The state
senate
voted to recognize gay marriage along a 21-15 partisan vote with Democrats for the most part voting to affirm it and Republicans voting against it. The General Assembly has yet to bring it up for a vote and no one knows if California's Republican but moderate governor will veto or sign it. Conservatives will no doubt contest its legal applicability in the courts since Proposition 22 explicitly bars any recognition of gay marriage.
And they will have a good chance of winning. If a proposition is to have any legal significance it cannot, by any means, be ignored by a legislative body. Challenges to the proposition must be made by either a new proposition designed to overturn it or through the courts itself.
Should, however, Proposition 22 itself be declared unconstitutional as some fear, the conservatives who pushed for it need only press for a constitutional amendment banning gay marriage and that requires the same majority vote they won by a comfortable margin with Proposition 22.
Gay marriage is, for gay rights activists, a losing battle in California so gay marriage is not the issue; California's recognition of gay couples' domestic partnerships is.
Religious conservatives are, as mentioned above, pushing for a new initiative which would ban gay marriage and any form of recognition (civil union, domestic partnerships) short of it and the precise wording that will be put to the voters is being fought over by the opposing camps and both campaigns are using the
court system
to legalize and "confirm" their disingenuous campaign tactics.
The gay marriage activists know they will lose whenever gay marriage comes up for a vote. In the last general election, marriage initiatives came up for a vote in 11 states and in each one it passed, many by comfortable and even overwhelming margins. Libertarian Montana voted for it (even as the public there voted to legalize marijuana) and liberal Oregon joined Midwestern populist states like Michigan and conservative heartland states in banning gay marriage. They know Californians rejected gay marriage 3:2. with Proposition 22 and the religious conservatives will likely win any constitutional amendment by a comfortable margin as well. Their efforts to downplay the religious rights' emphasis on gay marriage is understandable in light of that fact but the gay marriage rights activists cannot genuinely say marriage is not the issue when their supporters in the legislature and within the legal community are fighting for it. They cannot say this initiative has nothing to do with marriage when their Supreme Court is hearing child custody cases, when San Francisco's mayor officiated over gay weddings, or when the upper house of California's legislature passes a bill recognizing a gay couple's marriage.
For their part, religious conservatives know they will have a harder time winning approval of the measure if the public were informed of its deleterious effects upon a stigmatized minority than it would if it merely affirmed something that most believe to be a fact of life (I will leave to the side the question of whether that is a fact of life or not; its perception as such is enough to prove my point). The public would have no problem voting to affirm marriage's heterosexual definition as a union between man and woman but support may wane if the public knew the law would ban state protection of a gay couple's hospital visitation, child custody, and property rights. Voters who might otherwise vote to give heterosexual unions special status might view the measure religious conservatives seek as a means to deprive gay couples the common decency and respect they would themselves ask for during times of hardship and consequently reject the proposal if they knew of its harmful effects.
The religious conservatives know this and that is why they are asking the Court to reject Attorney General Bill Lockyer's wording of the initiative, which notes, in its summary, the harmful effects it would have on gay people's hospital visitation and property rights. But their effort is just as disingenuous as the gay activists' campaign. They know that the public has little to fear from the gay rights' activists campaign. Had this measure been stripped of any reference to other forms of gay recognition short of marriage, there would have been no need to push this legislation in the first place. Gay marriage was rejected in California by a comfortable margin and it would be rejected again. Gay marriage is a red herring, one that the gay activists may be pushing, but ultimately to their own detriment. At issue are the very real tangential benefits gays now acquire through domestic partnerships, the very things religious conservatives don't want the public to know they are voting on. How honest and Christian of them.
May they have the same level of success in winning their interpretation of the amendment that gay marriage activists had in fighting Proposition 22.