Swank Home
Andrew's Home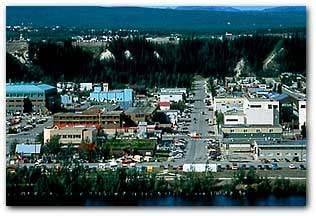 Last week I wrote five articles for the newspaper. That really drained me, and I didn't feel like writing anything here.
In fact on the Wednesday of that week I wrote three articles, totaling about 2,500 words in length, in about five hours. I've never written anywhere near as much in such a short period.
It was both exhausting and challenging. I was filled with desperation as I struggled to get it done, and yet it was exhilarating as I knew I had to get it done.   
And, after it was done, it was immensely rewarding. I really feel like I'm accomplishing something here, like there's value in the work I'm doing.   
I think there's the growing potential that I could stay here a long while.   
On Saturday I was supposed to go to a music festival in Skagway, but I skipped it in favour of attending a party here which I thought would be much better for me socially.   
And it was. It was strangely mostly all media. I got to meet, play horseshoes with and get drunk with all the other journalists from the other newspaper and the radio stations.   
Of course, by saying "other journalists," I'm beginning to believe that I actually am one.   
It was a wonderful experience.   
Anyhow, also last week and into the weekend, I searched somewhat frantically, with the end of the month looming, for a new place to live.   
Whitehorse has a real housing shortage. Houses which go for $60k in Prince Rupert cost five times as much here.   
Trying to find anything decent for rent, at a reasonable price, is a nightmare.   
I looked at seven places before finally settling on a downtown basement one-bedroom apartment for $700 a month.   
I know I've sworn before I'd never live in a basement again, but there wasn't much choice and some of the other places were truly abysmal.   
In Rupert I was paying $500 a month and thought the place was overpriced, and now I find myself in a similar place (minus the view) for considerably more.   
But, as I sit here on my futon with my furniture all assembled and my belongings mostly unpacked, I realize it is a pretty good apartment. It's quite clean, everything feels new and, considering all the alternatives I looked at, is very spacious.   
After living in a cabin for four months, I'm finding it amazing how much I missed the little things, like electricity or a kitchen sink or my own bathroom. I'm shocked at how fast water boils on an electric stove.   
Of course, there are downsides as well. I now feel, living within the city, the need to lock the door all the time. The cabin didn't even have a lock.   
It was a very hectic, fast move. The previous tenant didn't vacate until about 6:00 p.m. on the 31st, and I had to be out of the cabin by that same day.   
So I dropped off one load at the new place after work, then went back to the cabin to pack my remaining stuff and do a final cleaning. I didn't get it all done till about 10:30 p.m., so the place was cleaned in the dark.   
And then, as the end of this week came, I found myself horrendously busy at work. Among a pile of other things, for Friday I designed five full-page ads and a double-page centre-spread of New Orleans hurricane photos, as well as writing the night before a feature story on the new season at the arts centre.   
But it's all over. Tonight I've unpacked and put together my furniture and now I have a three-day weekend (Labour Day) to relax.   
Oh. Also, I now have a phone. If you want to know the number, send me a gmail.