Swank Home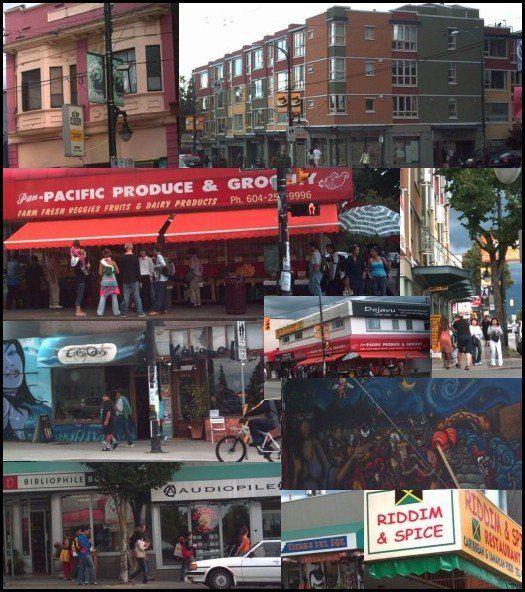 Commercial Street/Drive - 'The Drive' as a cultural community.
By
Christine
Though slightly off the beaten downtown path, this is one of the friendliest streets in Vancouver. The ambiance that exudes from Commercial Drive is that of a cultural community. It is not uncommon to hear/see people calling out to friends, stopping to chat, and discussing upcoming events. I have often found myself drawn to Commercial, just to take in the community-feel and the terrific shops.
Originally, Commercial Drive was most famous as "Little Italy." Recently, it gained worldwide recognition with the arrest Carol Gwilt who operated the Da Kine Café. Never had Commercial Drive been more notorious than when Da Kine Café was closed for selling marijuana openly. (Note: there weren't any official complaints filed). Fortunately, Commercial is also known for its annual events such as the Fringe Festival, the Parade of Lost Souls and other street parties throughout the year.
I ventured into Deja Vu International, a hairdressing shop as well as an International School of Beauty and was immediately drawn into the discussion of current activities. Aside from a covert planning of a upcoming birthday, Luke, Nunu and the gang were all discussing the Caribbean Festival Dance being held at Deer Lake that evening. A cheerful group, they immediately began inviting me to attend the various events discussed and telling me which shops offered the best lattés, etc.
The Drive (as the locals call it) supports every sort of shop: ethnic shops, beauty shops, multi-cultural restaurants, including: Jamaican patty shops, a Caribbean food and spice store, Spanish tapas bars, Portuguese coffee shops, Indian and Mexican clothiers, European hand embroidery shop, Kokopelli hair salon, Audiopile record shop, Bibliophile Books, and Grass Roots Hemp and Drums shop. As well, Commercial has street vendors (in every sense of the word) as the wares are spread out on sidewalks displaying homemade jewellery and indie cds as well as other odds and ends.
Sitting outside JJ Bean's House of Coffee, I was surprised to see so many ethnic restaurants within a stone's throw of each other. The Drive is a 'must-see' for any food lover. Whilst jotting notes, I looked up and saw six restaurants, literally doors away from each other, offering Ethiopian, Greek, Spanish, Salvadorian, Moroccan and Asian fare. Harambe' is an Ethiopian restaurant that received a write-up in the 'Georgia Strait' for its homemade "Wonder Bread'. Clovis' menu showed a wide selection of Asian food, and Addis cafe offered Ethiopian Food. All the restaurants were at decent capacity (given that it was only 2:30 pm) and the menus posted listed varied dishes at reasonable prices, ie: $7.95 a meal ($6.00 if you're American).
Amongst the numerous coffee shops sprinkled throughout the streets, the Cafe Deux Soleil stood out - offering coffee, food and entertainment. The food offerings were mostly on the vegan side and again, reasonably priced. Cafe Deux Soleil's entertainment is both live and dj hosted, with poetry slamming being another popular event. (For example the CFSW Finals for slam poetry is being held Monday, September 5.)
While 'people-watching', and sipping the best latté in ages, I found that within the first 10 minutes, a multitude of nationalities, languages and physical abilities paraded past me. I also noticed that this area is a dog lovers' stroll - I've never seen so many people saunter down the drive with their pets.
I loved the people of Commercial; chattering in an assortment of languages, hair styles ranging from no-hair to purple, pink, blue, dreds, braids, afros, long, and short. Clothing was mainly in the Boho hippie chic style - haven't seen this many tie-dye wraparound skirts in ages. Blind, disabled, and wheelchair pedestrians were all completely at ease within the community mosaic.
Houses are scattered in amongst the shops with chic condos nestled above stores in a bright array of European colours. Detached houses in this area run between $400,000 and $500,000 for 2100 sq feet.
I had hoped to walk at least five blocks in either direction beginning at 1st avenue and Commercial, however, I was overwhelmed with images, attractions, conversations with friendly pedestrians and shop owners within the first three blocks. Altogether it took two hours to walk five blocks, and I fell in love with the charm of the Drive all over again.