Visit Swanktrendz's home Site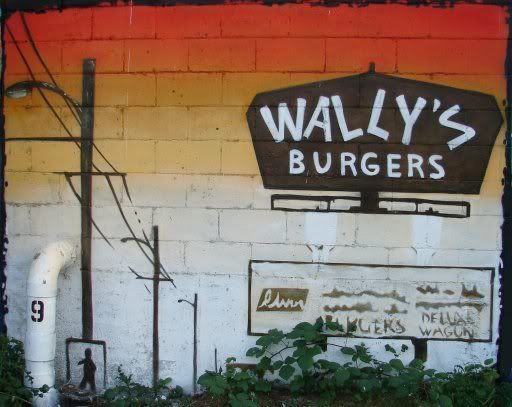 Where burgers are concerned, I'm pure Jughead: "Give me one of those, and one of those, and one of those, too." Would I like fries with that? Yes, of course I would! And I want a milkshake, too.
My newspaper told me a while ago that Vancouver's landmark Fresgo Inn on Davie Street has closed. Closed! Not only has it closed, it has been replaced by a performance venue/restaurant/lounge featuring burlesque acts by drag queens, oh my. Thirty years of Fresgo's erased just like that.
At least two generations of youngsters stumbled (or sometimes tumbled) into Fresgo's at 2 AM to devour mushroom burgers and vast mounds of fries. I was one of them way back when, and my memories of Fresgo's are all enjoyable, if somewhat indistinct. If I can't go there anymore, where shall I go, then?
I set off for Wally's Burgers, out on Kingsway in deepest East Van, eager for a Deluxe Wagon Burger, some fries, and a milkshake. Wally's is a classic 1950s drive-in burger joint, perhaps the last such remaining here. I found that Wally's, alas, is on its last legs: the vintage neon sign is being dismantled; there are no milkshakes available, and no pop machines, either. These last have been replaced by a generic Pepsi cooler.
The Deluxe Wagon burger remains, though: a wonderfully sloppy construction featuring two patties in a big bun (with condiments and secret sauce). But the amount of fries has been reduced by half, and there weren't too many customers present. I was pleased, though, to see two guys show up in a heavily customized muscle car: a reminiscence of Wally's hot rod past as the cool place to be.
Times change, I realize, and if we're losing or about to lose the classic old burger joints, who is replacing them? And what's the new approach to selling the time-honoured burger + fries + milkshake combo?
Some Googling to find Vancouver's latest and greatest burger joints yielded a few contenders, so I applied bike tires to pavement to investigate each in turn.
Vera's Burger Shack (various locations)
A truly tasty big burger, and a friendly method of ordering: they ask for your name, and then yell for you when your order is ready. But the location on Main Street (at 14th Ave) has appalling ambience. The only tables are picnic tables, otherwise you must sit on a stool at a narrow shelflike bar; there's a giant-screen television dominating the room showing idiotic sports like wrestling or stock car racing; and the only beverages available are pop, juice, or bottled water. Go here only for takeout, like most other people do.
Burgers Etc (North Burnaby)
A cozy little cafe on Hastings near Gilmore, also with big yummy burgers. Table seating is available, with servers, and a standard burger with fries and a pop (no milkshakes, no coffee or tea, but they do have a liquor license) cost me $10.34. Not bad at all, I thought. A delicious burger (etc), but the music's too loud. I'd go back if they turned the volume down and offered me some coffee. How hard is it make coffee? Or, for that matter, to make a milkshake?Hamburger Mary's (1202 Davie Street, Vancouver)
Hamburger Mary's has graced Vancouver's West End since 1979, serving up burgers that are 1/3 of a pound of chopped beef steak (other meats are available, along with chicken and salmon), well-garnished, and with a tasty barbecue sauce. Fries are included in the price printed on the menu, AND they have milkshakes, coffee and tea, and an outdoor patio. And a liquor license. And soup. And they're right downtown. And they're open til 3 AM. What's not to like here? My vote goes to Hamburger Mary's, long may she prosper.