Visit Swanktrendz's home Site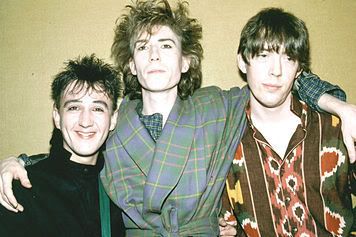 Image by yottamusic.com
Gravelly voiced Richard Butler fronted the band who sung "Pretty in Pink" which was used for the 1986 movie of the same name. The band originally assembled in the late 70's, and continued until 1991. Artistic disagreements led to the band's demise. The 1980's were the glory years for the Furs; "Heaven", along with "Pretty in Pink" kept the Furs on the airwaves. In 1994, Richard created the band, LoveSpitLove, only to disband several years later. His focus is now back on the Furs.
Recently the Furs played at Endfest13 , 2004, with the likes of Violent Femmes, Yeah Yeah Yeahs, X, and Franz Ferdinand which would indicate the "Alive and Kicking" moniker is appropriate. I also noticed that the Furs had an extensive tour date schedule for 2004/05. Richard has recently released (Aug/04) the song "Work it Out" (written by Vince Clark of Depeche Mode) for the children's show, Johnny Bravo.
In August, 2004, a book about the Psychedelic Furs was released, entitled "Beautiful Chaos".
There is talk that the Furs are in recording at this time (Winter 2004), and it is also rumoured that Richard was releasing a solo cd this Fall, but so far, no sight of it. The songs "Broken Areoplanes" and "California" will be two of the titles on the new cd. However, aside from 2002, no "new" cds (in other words, disregard greatest hits cds) have been released, and the other cds were deemed "reissued".
Present bandmates in the Furs are: Richard Butler (vocals), Tim Butler (bass), John Ashton (guitar), Frank Ferrer (drums) and Amanda Kramer (keyboards). Butler, (June 5, 1956) presently resides in New York with his wife and daughter and has also become a critically acclaimed painter. he performed a full touring schedule with the Furs in 2005.