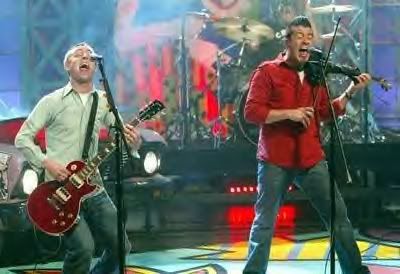 images from studentsoftheworld.com
Thank you for agreeing to talk with Swanktrendz ezine. I was looking forward to meeting you as I have a few questions regarding your ability to sing, play violin, and do back flips, all with apparent ease.
Well, I am not sure about the ease part.
Who generally deals with the media interviews?
Ryan and I share them equally we split the duty, either together or apart. I am really looking forward to playing this venue I feel really good about tonight. Vancouver's been a tough town to sell a lot of tickets, so we want to make sure we give them their money's worth.
It is interesting that you were chosen to open for Nickelback. I wouldn't say your sound is similar, yet you do complement each other.
Thank you. We do have a solid core fan base who come out to our shows, but we certainly are not breaking into the thousands like Nickelback, so this will be an interesting experience.
Now Sean, obviously - since the band's inception - there is a huge buzz about you playing the violin in a rock, formerly punk, band. And, I understand you were brought up in a classical and jazz environment. So how did you come to marry the two genres?
Yep, I was brought up on classical, with a little more jazz when I went to high school. I started doing some some improv with the violin and then began a little more of the rock side, but I had been classically trained from the age of six. So I could venture out, yet always return to the classic.
Is this career what you were leaning towards?
No. Actually I never thought I would be doing anything in music, except on an outside scale. I always thought I would be a music teacher at middle school or high school and that would provide my musical outlet.
Too bad you didn't. Canada and the US are starved for music teachers.
Yes, Music education is really a sad thing at present. But, back to my musical direction - it wasn't until I met the group of friends (that would go on to become Yellowcard) that I started playing music and playing different musical styles. I started writing songs and being part of a band, and all along we were really close friends
That makes me wonder - because the fellows in the band are so close and together constantly -how did you survive this long? The relationship is akin to family and don't you find you treat your band mates worse than you would an outsider?
There are definitely roots of family involved. You start from there because you are intertwined so tight, and you know how to push each other's buttons. It can be horrible some times especially if someone decides to push an issue. Nowadays, we have gotten better at separating issues. It's hard when financial, business, and music are all intertwined.
I've noticed that you have been around for almost as long as the drummer, Longineu. So that means you could write the Yellowcard book - You've got all the dirt on everyone, and you have seen all the line up changes.
Well, there wouldn't be much to write.
I was reading that the cd Light and Sound received a lot of high scores from various reviewers. Alternative Press (amongst others) rated it 5 out of 5. That must be extremely satisfying, and validating, for you as you wrote and arranged all the strings except one.
No, I wrote all of them.
All of them? I have heard that you didn't do the intro to track 8 The Waiting Game.
No the melody in the song is what Pete thought of, and then we wrote the song together I arranged the strings.
That is pretty impressive.
I am trying. Like any band from Aerosmith to anyone today - they always have string arrangements in their music. I think it is a big point of pride that we are able to do all the arranging in house. Arrangement and orchestration can be done by us, and it falls under the violin player job, I'll do it. Anything we offer on our records we can offer in a live show.
Great segueway - I wanted to ask how difficult is it to transfer your studio music to a live show? I have heard that more and more artists are relying on autotune to perfect their voices - is this the same for the instrument playing?
We definitely shy away from the use of effects and outside influences in our music. We have always prided ourselves on being the band that can do it live. Of course fatigue and emotion can come into play during our live shows and we can make mistakes. But we really embrace just being a band and being out there creating the music for our audience. There are different technological advances that help say, the Britney Spears in life, But we still have integrity and we are going to be the hardest working band, Yes, we are gong to make mistakes.
I would think the fans appreciate that.
We pride ourselves on the relationship that we have with our fans and audience rather than going up and pressing play. Sure if we lip synched, it would sound exactly like the record and it would look like us but we can't interact with the audience then.
I have heard that you are one of the hardest working bands with regards to maintaining your myspace site, keeping connected, writing back to fans. At your level of success, you don't even have to do that.
It is becoming more and more difficult, but it is important to us. Bottom line, we wouldn't be here if it weren't for the fans. There are a million bands out there who they can support, and they have chosen us. We try to give kudos to our fans for allowing us to live like this.
Progression of the band - I have two sets of notes, pre Ryan Key and post Ryan. When Ryan is speaking of the band he generally only refers to music done since 2000, not anything around the beginning 1997. Is that in keeping with the music too - you don't play any songs pre Ryan?
We don't play anything prior to Ryan's music in Yellowcard because the earlier stuff was written by Todd Clarry and Ben Dobson and it's more out of respect than anything because it's their music. When Ryan Key joined, he was just doing guitar and Todd was singing. And then Todd left, so Ryan just took over the singing as well. He also taught me how to sing.
I noticed you are coming to forefront more and more with your vocals. I guess there won't be any more back flips from you if you have to play and sing?
I try to get them in there once in awhile.
I wanted going to ask who is behind all of your publicity decisions. You played the Warped Tour, yet also played in school cafeterias. You are playing in parking lots, and you are participating in radio contests. You are everywhere - it appears to be savvy, clever marketing.
We have a small amount of creative control but it is a cooperative thing. You have to talk with others to sign it off. Our manager is amazing.
Someone is doing some thing right because you name is heard and seen everywhere since the announcement of touring with Nickelback.
Nickelback is amazing because in an era of selling thousands of songs, they have managed to sell millions. They have at least 8 huge hits, so they are the biggest rock band on the planet. I don't know how we got picked. Our manager mentioned it and we said that would be great. We want to play to the people that have heard of us, but we are also hoping to reach out to the people that haven't heard of us. Nickelback has been nothing but accommodating to us. We are just excited to be able to play to that many people.
With the beginning of Yellowcard, did you only plan to play a couple of songs?
In 1997 the band was very aggressive, very 'good riddance' punk rock music. With the change of the songwriting after Ryan Key came on board showed how diverse everyone in the band is. We have found parts in every song of the yellowcard song formula for the violin. At first I was part of the band, but more in a 'guest appearance' role. The response was really positive so they said, you're in and you have got songs you've written, so let's work on them. It's important for the Yellowcard sound for me to play violin.
How do you maintain your energy level given how frenzied your playing is, on top of stage antics and singing?
My energy level is a reflection of what I get from the crowd. I was used to wearing a tuxedo and playing in an orchestra. Now with having our own show, when it's my turn to play my bit, I stand on that little island I don't have to hold back. It's a relief and it is a lot of fun.
What was a highlight - a big moment where you stopped and thought, you know what? I think we are doing okay.
I am going to say winning the MTV2 awards. We were the underdog. That was a highlight and looking back - we were thinking what the hell were we doing there in the company of all of these people? Another highlight is that we are still here. With the tour for 'Paper Walls', every day I am continually reminded that I get to do this as a living. It's pretty sweet.
Okay fun questions for while on tour. Who's the messiest on tour?
The messiest - I would say Longineu - he takes out the back lounge like it's his bedroom. Sorry LP.
Who is ridiculously neat?
Ryan Mendez and I share this We seem to both have a little OCD. This is my spot, I know where to find my stuff. Hey who touched my ipod? Why is this over there - I didn't put it there?
Who is quickest to temper?
For reaction and just being the sharpest is Ryan Key - Good or bad.
Who is most inclined to get a tattoo in every new city?
Longineu, I think. He used to have one artist, but lately he has started to branch out. Ryan only has one artist that he does work with.
Who likes to pester others when he is extremely bored, like a kid brother?
I think I am the most annoying one as I have all this energy. I'll start singing songs or running around heckling people.
Who is the one who generally puts his foot in his mouth without thinking before he speaks?
I don't know - At this stage of the game we all know how to answer and when to keep our mouths shut.
It is swanktrendz's tradition to allow artists to give a shout out to other lesser know acts. Think of one or more acts who you feel are deserving of some media attention?Anberline
also from Florida - great friends of ours on the warped tour. Cities of tooth and nail. I am looking forward to what they are going to put out.
http://www.myspace.com/anberlin
And one more, too. The
Spill Canvas
. Neil, our producer, just did their album They are fantastic. The singer has incredible delivery - he sings so beautifully and they're from South Dakota.
http://www.myspace.com/tsc
I'll be sure to note them and I want to thank you for your time, Sean.
You bet, my pleasure