Visit Swanktrendz's home Site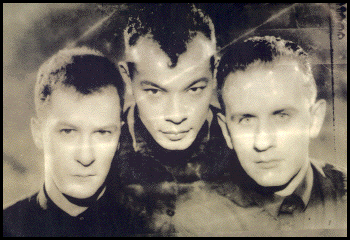 Although Fine Young Cannibals only released two cds - Fine Young Cannibals, and The Raw and the Cooked, their songs dominated the airwaves from 1985 to 1990.
FYC was one of Britain's most popular bands of the eighties and their unique name was taken from an obscure 1960 film, All the Fine Cannibals. FYC consisted of Roland Gift (br 1962), Andy Cox (br 1956) and David Steele (br 1960) (Both formerly of the band, English Beat). Roland was responsible for the group's lyrics and melodies, while Dave and Andy would add guitars/ drums etc. and arrange/ flesh out the rest of the song.
In 1990, Gift shocked the music industry by refusing, on the band's behalf, two Brit awards, claiming the event had "become a photo opportunity for the Tory government." FYC tried to make a third album, but it wasn't to be, especially since Gift decided to go off with a traveling theatre group halfway through recording, angering his colleagues. After languishing without an album, the band was dropped by their label in 1996. That made Gift more determined to release a solo album.
Roland Gift was/is exceptionally good looking, with a voice to match. His singing style was unique; stretching his mouth for every vowel, and rolling his tongue around every consonant, resulting in a raspy, melancholic and soulful sound. He has since done some acting and modeling, but mostly just stayed out of the limelight. Gift has his own official website and had released a self titled cd (with the help of Andy Cox) in March of 2002 to mediocre reviews. Some comments declared that The Fine Young Cannibal's "fire was missing," and called the cd "Bacharach pop." Not the best reviews to hear after being off the charts for 12 years. (but still being productive by raising his two children).
Andy Cox, with FYC, performed in the movie The Tinmen. He has also lent his guitar/ cello/ drumming/ photography/ arranging/ producing talents to REM, Gabrielle, "Big Monster Bash", Tribute to Cole Porter, "Fairport Unconventional", Al Green, English Beat, "Gourmet de Funk", Ranking Roger, Roland Gift, and "Best of Music & Rhythm".
David Steele formed Two Men and a Drum Machine with David Steele, and had also been active as a studio backup for other artists as well as for soundtracks. He has lent his vocals/ bass/ keyboards/ drumming/ mixing/ and producing to: Loverboy, Cher, "Down to Earth", "Truth About Cats and Dogs", Motley Crue, Al Green, Annihilator, Alison Moyet, and Tribute to Cole Porter.
It appears that Cox and Steele are still alive and kicking, but Gift may require some nudging to get out there and continue pursuing his love of drama and singing.