Visit swanktrendz at
Visit Swanktrendz

I have to admit that I'm a sucker for hard-driving, balls to the wall rock n roll. I loved Smells Like Teen Spirit the first time I heard it because of the energy and vibe, and that's how I feel about this British group.
Thunderbird 13 is a hard rocking outfit from Newquay, Southwest England and man, do these guys rock. The influences are obvious, but there is a definite originality to this band. So as you're listening to the five tracks on their Myspace site, and you hear a bit of Motley Crue, Guns n Roses, even some Sabbath, you'll also realize this is no rip off act. They do have their own sound… there's no redundancy here… well, not too much.
The guitar playing of Goffzilla is impressive from the get go… this guy plays as well as anyone I've heard… (no exaggeration).
After a couple of listens I detect a bit of Slash, Tony lommi, Mick Mars, even Glenn Tipton and K.K. Downing (of Judas Priest). The fact that he is the vocalist, and an impressive one at that, makes me believe that we will be hearing about this lad, in a big way, sooner rather than later.
The drummer, Fatpaul, keeps a hard driving and steady beat through the tunes without being too flashy. He adds some excellent fills and double foot work when needed. He also appears to recognize that you can get more with less… and it works very well in the context of this band's sound.
The bass playing of Daniel Dawson is also top notch, most notably on House of Sin where his steady, thumping patter complements the song perfectly. He is a very capable and creative bass player… something all great bands require.
The tune Head n Tails sounds like You've Got Another Thing Coming, but that's more from the rhythmic similarities of the main guitar riffs of both songs. As Head n Tails progresses, it definitely comes into its own.
House of Sin is a total rocker and an absolute gem at that. I picture a smoky bar with a lot of rough and tumble tattooed patrons… this song would be right at home there.
Take or Leave It enables Fatpaul to showcase his drumming talents as he masterfully manoeuvres through an avalanche of rolls and steady driving beats. I like all five songs on the site, but this one stands out for its energy and originality.
Love Junky starts with a bluesy, southern feel to it but then transforms into a riff-laden rocker and continues to go back and forth between the two. At first I thought Raine Maida (of Our Lady Peace) was a guest vocalist as the vocal similarities are that close at times.
Rock n Roll (demo) is my least favourite on the site… it is the one tune that does ring of redundancy and even appears a bit sloppy at times. But hey, it is only a demo and I'm sure with a bit of work and effort it could rise up to the standard of the other four… or provide a half decent filler for a full length album.
So if hard driving rock along the lines of the Gunners, Sabbath, Priest, and the Crue are what you're looking for, then do yourself a favour and check out Thunderbird 13 on their Myspace site. I'm sure you won't be disappointed.
Thunderbird 13 can be found at Thunderbird 13.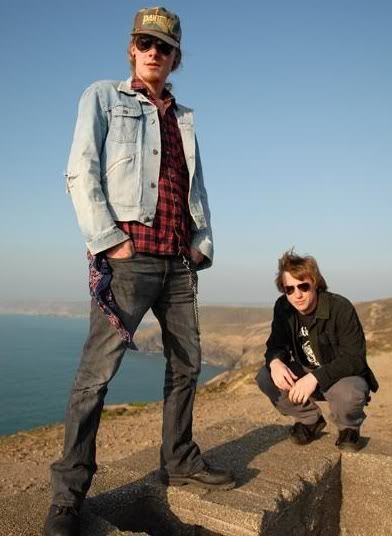 Image from myspace.com