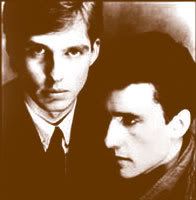 Image from urbanhonking.com
Visit Swanktrendz's home Site
In the Fall of 1979, Orchestral Maneuvers in the Dark (also known as OMD) released their first single which contained the catchy sound of a synthesized xylophone. Here were four guys from Liverpool, Paul Humphreys, Andy McCluskey, Martin Cooper (sax, Keyboards), and Malcolm Holmes (drums), creating a unique wall of sound from minimal instruments.
The band has had at least three different music directions in its surprisingly long and varied history. First was the highly experimental and very influential Orchestral Maneuvers in the Dark during the early 1980s; the ready-for-America pop OMD of the late '80s, and the Orchestral Maneuvers in the Dark of the early 1990s. It is a sad statement that most music lovers only learned of the band in the mid eighties, when the movie, Pretty and Pink, put them into the spotlight. Moreso in the spotlight were Andy McCluskey and Paul Humphreys.
OMD's founder, Andy McCluskey noted that the band became popular in North America, just as their popularity was waning in England. England briefly showed a renewed interest when they released their fundamental (at least for their pocketbooks and for contractual obligations) "Best of" album in 1990, and they also reissued two of their other albums (Architecture & Morality, Organization) in 2003. The 1990 release was unusual as A&M has already released a Greatest Hits in 1989, but the band felt the 1990 release was better and since A&M had reverted back to Virgin, they felt a need to remaster and tidy up the disc.
McCluskey is aware that OMD has been influential for today's synthpop scene. There was a time in the late '80s and early '90s where synthpop was frowned upon, but it too is reemerging.
McCluskey feels frustrated when he thinks back to the eighties. Whenever OMD had a hit song, people would accuse them of selling out. Then when they were actually selling out, and were a hit, most people in the media had no idea about OMD's history. They just chalked us up as this fluff new pop band. McCluskey feels that, at least for a while, they tried their best to be cutting edge, ie: the song Enola Gay. "But after awhile you get stuck on a treadmill and it's hard to write good songs. You try to please people instead of trying to please yourself." People criticized the song, "If you Leave" yet McCluskey is very proud of that song and the effort that went into creating it.
By the end of 1989, OMD disbanded. McCluskey and his longtime band mate Paul Humphreys decided to go their separate ways. It was a difficult time for Andy because he was coming off a drug dependency, and was over a million £ in debt. Humphreys attempted to restart OMD without Andy, but Andy said no to the use of the OMD name. Virgin records assured McCluskey that he was the one they wanted the album from. The resulting album was entitled Sugar Tax. He purposely didn't put any names on the album so that people wouldn't realize Humphreys was gone. It was released to lukewarm ratings.
For now, OMD has been laid to rest with no chance of resurrection. As McCluskey notes "I enjoy being retired, and not having to fit into the OMD jacket.'" As for the Alive and Kicking moniker, it appears OMD is simply treading water as debts and writer's block stop any further progress.