I was reading a site entitled 'askmen.com' and was impressed with the positive slant of the article outlining Michael Bublé's achievements in the music industry. Michael Bublé has now sold in excess of ten million recordings world-wide. His popularity continues to grow as he has a massive following across
Europe, North America, Australia, South East Asia, South Africa and Brazil.
I have been acquainted with Bublé's work for the last few years and find him to be a man born too many years too late. His singing is reminiscent of the 'golden years' of male singers - the sultry, soothing vocal quality that would have had the ladies fainting in the '50s and '60s (ala Sinatra, Perry Como, Mel Tormé, et el.) Giving the public's love for sentimental trips down memory lane, Bublé's arrival has been cemented in the music charts (and fan's hearts) as a force to be reckoned with.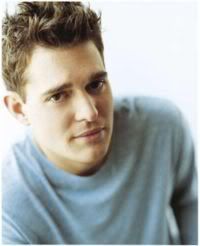 Where is this leading you may ask? Well it has come to my attention that Michael's has been nominated for a People's Choice Award. The category in question is
"Best Remake: Save The Last Dance"
. Any of you whom have heard this track know of what I speak. Not only does he take us on a sentimental journey (which none of us are old enough to recall), but he completely owns the song and makes it work, despite today's cynical, music expectations.As askmen.com noted:
You don't always need a fresh sound to make headway on the musical highway. If you're talented and have the "It" factor, then you're on your way -- especially if you're signed to a reputable record label. This is Michael Bublé's story, and now he deserves all the acclaim he gets.
This is where you, our dear and delightful readers are needed. Please go to the following link and vote for Bublé - I believe you may even vote more than once. Let's acknowledge and celebrate this young man for bringing back not only the classics, but the classic, ultimate showmanship that reflects Michael's strong work ethic. I think his winning a People's Choice Award would be fitting for a man who has dedicated his life to serenading the fans, (both young and old). Get on that computer and vote, vote vote! Thank you!
Vote Bublé