River Rock Casino Red Robinson Theatre, Vancouver 90% capacity
In the song
As I Am
Joan wrote,
Oh I wish that you could Love me as I am...
Oh, but we do, Joan, we really do.
Images courtesy of Kevin StathamI have 'lived' with Joan Jett throughout her career. By lived, I am referring to Joan's role as a generational icon. However, when Terry, my co-reviewer suggested we review Joan's upcoming concert, my response was more apathetic than reverential. Well, thank you Terry for reminding me how influential and important Joan Jett is to music, and to me.As with every review I write, there are the requisite superficial observations. The audience age demographic was generally in the 30 - 50 age range with occasional children and young adults thrown in. Number of goofy hats - 2 although the men wearing them can be forgiven as they were truly avid and loyal fans of Joan. I noticed a predominance of the colour red in the audiences wardrobes - generally all in good taste save for one dreadful red plaid lumberjack looking coat, and of course, the all important black leather ensembles were present.The venue was a pleasant surprise. I have never been to a casino theatre and I have to admit that the
River Rock Casino
and
Red Robinson's Theatre
was very impressive. The approximately 900 seating venue was comfortable and every seat had an excellent viewing vantage. The stage was of a good size and the acoustic/sound quality was exceptional. None of the dreaded feedback or sound delays were present. The theatre staff and ushers were professional, friendly and extremely accommodating.The show was to begin at 8:00 and at 8:15 the lights went down and Red Robinson himself, looking ever like the 'Red' we know and love, came out to introduce
Joan Jett and the Blackhearts
. (An aside - does this man ever age?)The stage setup was relatively sparse, but after Joan began her set, it was obvious that she didn't need any backdrop gimmicks. She was the show, the backdrop, and the scenery.The pre-recorded song "Hello I'm back" by Gary Glitter was a fitting intro to Jett's appearance onstage. As well, the band's intro song was the rollicking
Bad Reputation
and it was as if time had stood still for Joan, attired in her leather pants, Dayton boots and jet black hair. Looking as toned and fit as she did at 20, it was hard to believe this sprite of a woman had just turned 48 on September 22nd. As she encouraged the audience to leave their seats and sing and dance along with Bad Reputation, the audience was obliging and eating out of her hand - all this by the first song!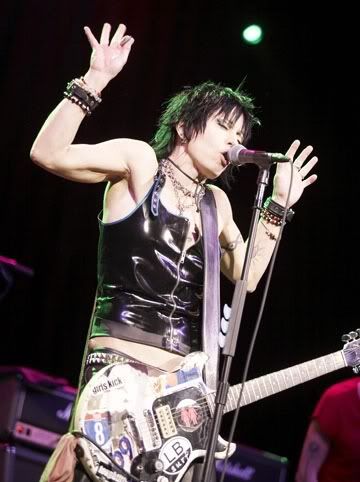 The next tune could had been called 'up close and interactive with Joan Jett'.
Do You Want to Touch me (Oh Yeah)
began with Joan insisting on a crowd vocal warmup up for their future involvement in the chorus. Sure enough, by the end of the song, the crowd was singing at the top of their lungs, with Joan not even needing to add her vocals in some areas.Joan sang several of her new tunes from her just released album,
Sinners
, and I especially enjoyed
Androgynous
and
Five
.When Joan struck the first chord of a crowd favourite,
Cherry Bomb
, a girl from the audience ran forward and threw something onstage that appeared to be a black feathered boa, or a scarf, (Please don't let the article have been panties as it was huge).Viewing the band was like a step back in time. No keyboards, backing vocals were needed. Just three guitars and a drumset, and of course some outstanding vocals, and frenzied playing ala The Ramones.When she sang the chorus of
Love is Pain
We are not to blame
For seeing love is pain
An' we are not ashamed
To say that love is pain
An' we'll do it again
from the album, Fetish, many of the fans were singing along. That's when I noted that these were not your flash in the pan fans.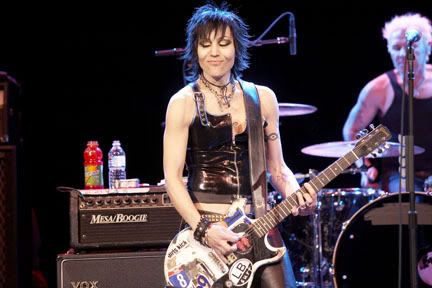 Although Jett has been in the entertainment business for 30 years, it was noted that she and long-time musical partner, collaborator and friend, Kenny Laguna, had been together for 25 of those years. Quite the feat in a business as fickle as the music industry. Joan launched into her self-described introspective song,
Naked
, from Sinners, and I found her voice had matured to a new level. Her tone and pitch were excellent and, dare I say, far better than when she first started out back in the days of the Runaways. When she spoke of being in Vancouver a lot as she was writing songs with Jim Vallance (Canada's golden son of song writing) the audience again showed their appreciation.Her song
Riddle
was memorable for the backgound taped political talking-heads, and the last sentence was a typical George Bush gaff. (One really has to feel embarrassed for the people of America to have this fellow in power).My generally indifferent (to new music that is) co-reviewer was having a great time and I recall him only cringing once. That's right, when the lights went on and Joan held out the mike for the audience to sing,
I love rock n' roll
So put another dime in the jukebox, baby
I love rock n' roll
So come an' take your time an' dance with me
Well, I may have been too far away to be heard, but dammit, I was going to sing, and sing I did, right into Terry's ear.Several covers that Joan sang, such as
Love is all Around
and
Crimson and Clover
were well done and I think the songs' originators would have felt Joan did the tunes justice, especially Tommy James.After singing one of her best selling hits,
I Hate Myself for Loving You
, she left the stage at 9:15, but soon returned to sing the classics,
AC/DC
and
Everyday People
.Yes, it was obvious that Joan Jett still loves rock and roll, and even more obvious that we still love Joan Jett.