Dec. 5/06 - St. Andrews Wesley Cathedral, Vancouver - sold out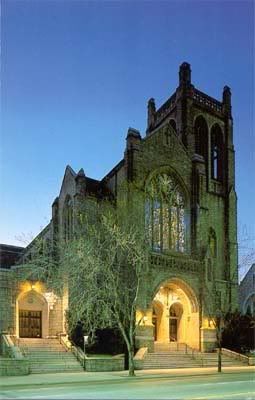 Freak folk? Weird folk? Psych folk? Avant folk? Anti folk? Whatever you want to call it, indie pop goddess/Celtic harpist Joanna Newsom played to an adoring (and sold out)crowd on Monday night.I had heard Newsom's 2004 single 'Sprout and the Bean'; in fact, it's in Mary's top ten. So on the strength of that, we went to the show at the very well chosen venue, St. Andrews Wesley Cathedral. This is the second show I've seen here (the other being Sufjan Stevens back in October); it's also been the site of a few other outside-the-mainstream acts such as Antony. And really, it's a fantastic venue. I've never heard better sound; the church has got that old church smell (not a bad thing!) - and not surprising, seeing that it's one of the oldest buildings in Vancouver; and more than anything, it's just so very full of atmosphere.Like the Sufjan Stevens show, the line stretched a whole block by the time we got there; fortunately, it didn't take quite so long for the doors to open. Once again we got great seats up in the balcony, and between you and me, the crowd-watching almost rivalled the actual show. There was all sorts of get-ups there, from a bearded guy in a huge bearskin coat to Vancouver's uber hip to a Squeaky From look-alike, complete with shaved head to guys in lumber jack shirts over their Star Trek t-shirts to hippy-looking folk. Among women, the hairstyle that seemed to be extremely popular was that late 1930s/early 1940s-influenced slightly dishevelled/ultra short bangs cut; with the guys it seemed that they were trying to make their fashion statements with their choice of eyewear (heavy and oversized frames were popular). Also in evidence: lots and lots of scarves, and hats of all sizes, shapes and colours. Over-all, about 90% of the crowd appeared to be in their 20s, and of those, I'd estimate that about 60%+ of those fans were male.The opening act was a man - I don't think he ever introduced himself, and I don't recall seeing anyone up there introducing him. He just came up, sat down and started singing. Dave had heard that Newsom was touring with an act called 'Smog', but we have no confirmation that this guy was that act. Anyway, he sang and played the acoustic guitar with no accompaniment. He had a rich, very full voice, and sounded a bit like Michael Hurley - but I found he took a long, long time between songs, just kind of sitting there, thinking. And he played for quite a long time. But he seemed to enjoy what he was doing, and I guess that's half the fun - just watching him have fun.
Joanna Newsom came on in a very quiet, unobtrusive way - the stage was dark and she just came and sat at her harp and started playing - no introduction, no lights, no nothing. She played her new album, Ys, in its entirety, which is something you don't see very often. At times it was just her up on the stage, and at times she was joined by a small backing band. There were the usual suspects - drums, guitar - but also accordion, saw, etc. The guitar play is actually a guy we saw opening for Michael Hurley - I believe he plays under the name Currituck County. And the drumming was positively tribal. The audience itself was, in a world, reverential. They were probably the politest and quietest crowd I've ever sat amongst. And when Newsom finished her set, in unison the crowd stood and gave her a standing ovation. The ovation went on until she returned to the stage and played three more songs. Again, another standing ovation, and when the house lights went up, I know the crowd was still wanting more. But it wasn't to be.Newsom's music is like no other out there that I know of - the 'little girl' voice she sang with on her first album, The Milk-Eyed Mender, has matured and sounds fuller. For this album, she got together with Van Dyke Parks for the orchestration and arrangements. Her allegory-laden lyrics are still as complex as before, and the many styles that have influenced her, from avant garde modernism to Celtic to African and Venezuelan harp rhythms to Appalachian folk still shine through.