Win a Seether Boxed Cd Library... or CDs... or T-Shirts!Courtesy of Jared from Wind Up records!
Visit Swanktrendz
Enter your info and answer here.
Jared Golberg from Wind Up Records
has decided to 'share the love' with Swanktrendz readers by offering merchandise from
Seether's
recently released Cd,
Finding Beauty in Negative Spaces
. (Seether's song,
Fake It
has been hovering at number one in the last couple of weeks in Vancouver.Thanks to Jared and Seether, Swanktrendz is offering some great giveaways for our
Where are they From?
Seether contest.The rules are extremely easy (also known as Christine-friendly).If you would like the opportunity to win one of six prizes, simply do the following:Follow the enclosed link and send Swanktrendz an email stating a) Where the band, Seether, originates and thenb) email your email address so that we may contact you if you are a winner.
Please do not worry about submitting your email, as Swanktrendz's site is programmed NOT to keep and/or sell any information EVER!
Now, how easy is that? I am looking forward to next Friday when I will announce the winners and send off some fabulous Seether merchandise.The names submitted will be drawn randomly to select the winners who have answered the contest question correctly.Prizes include:1) t-shirts
2) CD giveaways for
Finding Beauty in Negative Spaces
and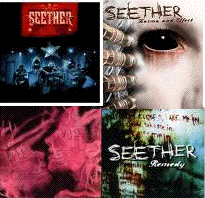 3) the complete Seether boxed CD library, autographed by the band.Well... what are you waiting for? Get your name and email submitted asap. Good luck to all of our readers.
Enter your info and answer here.