Visit Swanktrendz
The distant howl of a lone wolf on a cold winter's night has always inspired goosebumps and also a feeling of serenity within me. There is something quintessentially Canadian about the sound, especially if it's in the isolated regions of the north.Due to his impressive howling ability,
RCMP Constable Douglas Scott
earned the nickname 'Wolf' from his colleagues at his remote Nunavut detachment. This talent could have been attributed to his age, as the occasional howl is a necessary ingredient of youthful swagger for a twenty year old coming into his own.Perhaps it was a result of his fearlessness and perserverence? Unless you have gone through the battery of academic, physical, and psychological testing, as well as the months of intensive training that is required of police officers, it's impossible to appreciate how brave and driven this young man was, or comprehend how much he accomplished at such at a young age.The day of his funeral, countless officers could be overheard offering their impressions on how remarkable this young constable would have to have been to be given the responsibility of policing such a remote locale. A daunting task at any age. Friends and colleagues painted a picture of a man who was respectful, considerate, compassionate, and who also had a great sense of humour and love of life. A very mature young man who cared a great deal for his community and was determined to make a difference through his actions and deeds, both as a public servant and human being.Maybe those who tagged 'Wolf' felt his howl was a reflection of an extraordinary spirit that embodied all of the above characteristics. A spirit that will live on amongst family, friends, colleagues, and all who were touched by a man whose life contained great accomplishments and successes, yet was tragically cut short. Now, whenever I hear a distant howl on a cold winter's night, I will forever remember a remarkable young police constable and his incredible spirit.A spirit that epitomizes everything he lived and died for.
RCMP Constable Douglas Scott - December 21/86 to November 5/07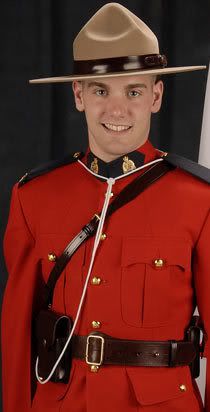 (
Editors Note: Constable Scott was shot while responding to a drunk driving call on Nov. 5
)For details of the funeral go to
Final Stop