Big Sound From a Sparse Set. Richards on Richards, nov 13/07
Visit Swanktrendz
To purchase the CD
Scarred
go to
Hybrid
Image from S X SW.com
David J.'s Site
One of the first things I asked
Johnette Napolitano
when given the opportunity was,
'Tell me truthfully - did you use a programmed track, taped background, vocal enhancement, or... during your set?
Laughingly she answered,
'No. I swear... it's just me and my acoustic. Why do you ask?'
'My God, you have an amazingly big, huge sound - both with your voice and your guitar! I was so impressed with what I heard, I had to ask.' I share this exchange because I was so impressed with, and not expecting, the wall of sound that came from the stage Tuesday night (at Richards on Richards of all places) that I risked the wrath of Johnette to ask that question. The
David J./ Johnette Napolitano
concert is going down as my all time favourite, bar none. Not only did I get to witness two fabulous performers,
David J.( of Love & Rockets, Bauhaus)
and
Johnette Napolitano (of Concrete Blonde, Pretty & Twisted)
; I got to enjoy their performances in an intimate, small venue. Pure bliss.David J. opened his set with a recital of
The Clash's
Straight to Hell
. It's a great song when sung, but it is a powerful song when spoken. I recall reading one of David's memories re: a conversation he had with
Joe Strummer
and I wondered if this was his way of paying tribute to a great artist and friend?It was interesting to watch David perform as he is quite animated when singing - his hands often fluttering a performance of their own. This David was far from the extremely
cool
, aloof and serious David J. of Bauhaus and L & R fame. As he meandered vocally from song to song in an art-house coffee club style, he casually provided intros and blurbs for each tune ie:
Pat Fish
and I wrote this song. Oh yeah Pat's also known as the
Jazz Butcher
,well we wrote this 'tune' and then he launches into an amazing
Walk with the Devil
. Similar anecdotes were give for
Tell me Henry Kissinger
, and some needed no byline at all like
Who Killed Mr. Moonlight
(always loved that one!) and
No New Tales to Tell
. David's set left me with a different appreciation of his talent. I see him as the artistic and obviously intellectual (who happens to be a fabulous storyteller) performer he is. I would like to see more of this entertainer - be it live or via the written/spoken word.The mainly 40+ aged audience members were extremely polite (in the beginning).No cellphones, no annoying flashbulbs, no ... uhh... people on the dance floor? (With exception to four 'younger' members of the audience, but more about them later during my Johnette interview.) A few people inched toward the peripheral of the dance floor, yet it was apparent that the crowd was still appreciative of and responsive to David's performance. For some reason they chose to 'engage' in his music from afar. Fine by me - better view, no annoyances.As David was finishing his set, thanking Johnette for the touring suggestion; who should walk out for a duet, but the woman of the moment - Johnette. And not only did she walk out, she
strutted
out, she
traipsed
out, she
swaggered
and showed some leg and very fine form. Then commanded our attention when she sang using her rawest and sexiest vocal -the likes of which Richard's walls haven't heard in awhile. No surprise at the audience rush to the stage and the feverish look in a few fans' eyes. It was pure camp and it was great.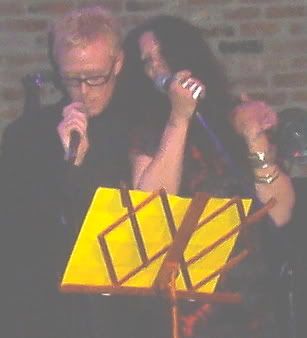 Funny what pops through our minds at any given moment, and mine upon seeing David J. being joined by Johnette onstage was,
'God, I hope Tracy 'gets' why I admire this singer so much'
. (Tracy being the pal I dragged along to the concert because a) she is
NOT
a fan of Johnette's and thus would provide me with an objective counterpoint for any biased review and b) I wanted Tracy to experience first hand the sound that she apparently wasn't
'getting'
from the copious Johnette CDs I was buying for her.)As soon as the staged pair launched into
Leonard Cohen'sTower of Song
I forgot all about my dear old pal and settled in for an amazing night (if the duet was any indicator).After jokes about the two performers being a virtual Gothorama artifact, David exited... stage left... and Johnette proceeded to keep us both laughing yet socially prodded us now and again throughout her (20+?) song set. Like David, she bantered with the audience and set up each song; she was clearly in top form - physically, mentally, and musically. Johnette is extremely quick witted with quick comebacks (yet also self deprecating) and her sense of humour brings to mind Canadian singer, Jann Arden, another gregarious entertainer. I think the two of them wouldn't be able to complete a sentence because of laughter.The dance floor was now so full, and the venue showing fans spilling from every available space; caused Johnette to crack,
...I am humbled by your turnout...
Then looking up,
Shit, you are everywhere! You're even packed in the upstairs. Hell, if I had known that, I'd have done my roots.
- In this photo Johnette is jokingly telling everyone to hurry and take her picture so she won't be distractedmid-song by flashes.There was also the emergence of younger fans - always a welcomed sight in my view. Younger equals music staying relevent. However, this concert made me aware of a generational divide. You know, that wonderful behavioural divide of
nonstop talking, picture flashes/ videotaping after polite requests not to, cell phones ringing AND being answered mid song, as well as shout-outs while the artist is singing to request yet a different song!
My crowd observance has now become my official WTF? moment of 2007.Because Johnette's concert had attracted two clearly defined age demographics - I felt I was witnessing a sociological phenomena. That
instant gratification phenomena
that anyone born pre 1975 doesn't fully understand.Oi Vey - I knew this review was going to be a long one. (Heh - wait until you read my phone interview with Johnette - potential novelette half way typed.) What can I say? The woman's bigger-than-life personality and talent (as well as my inane observations) demand a thorough article.Johnette's song list was a 'certain' ahem... narcissist's dream come true. I felt that ...
with me (Christine) being her Number 1 - most important fan
... Johnette clearly understood my worth and tailored her set list to accomodate all of my fave tunes. With this one gesture, Johnette confirmed the
vastness of my importance
in her life. Okay, Johnette doesn't have a clue who I am; her song choices were simply a logistical coincidence (songs that sound best when played acoustically) and I am not
completely
delusional. But she
did
actually play
my imagined set list
including that Chaplin song - How did she know!? So leave me be... with my fantasy.Johnette opens every set with a modified cover of
Dead Hearts'
Dear Jane Letter
(which she started performing during the Gulf War). She intends to keep this song in her set until her Homeland stops engaging/ joinging into Middle Eastern (or any?) wars. She resignedly noted that she does not foresee an end to the 'Dear Jane' intro any time soon.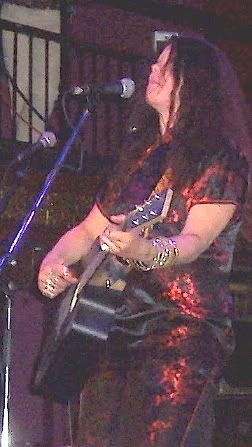 Then Johnette proceeded to acoustically play and sing songs from her
Concrete Blonde, Pretty & Twisted
, and
solo collections
.. Her songs were interesting, old fan/ new fan friendly, showcased her amazing vocal power and range, as well as highlighted her guitar mastery. Songs that would have needed more 'oomph' (due to the lack of an accompanying band) were played using her guitar to provide a variety of sound depth.Using the Palo Seco technique (using the guitar as percussion) as well as her positioning both of the guitar and herself, vocally by the mic, provided a mesmerizing result. The sound was huge, big enough for me to ask the opening question in this review. Songs such as
Take Me Home, I Don't Need a Hero, Joey, Like a Wave, Little Conversations, Amazing, Just Like Time, Suicide Note, Souvenir,
and the covers
Tower of Song, The Scientist, Ghost Riders in the Sky,
and most importantly, Chaplin's
Smile
(that's when I came up with 'this set is tailored for me' theory). Johnette's set flowed effortlessly and passed by far too quickly, despite her deliverance of 20+ songs. Her finale,
Tomorrow, Wendy
(reworking the lyrics to accommodate current senseless war deaths) left the crowd wanting more but being cognizant enough to be aware that she had already given generously of herself.The only downside to this stellar concert was the unavailability of CDs, t-shirts, and other band merchandise. Not sure of the reasons, but I do know its absence saved me some money. I suppose I should offer up a hesitant thank-you?And what about my completely objective pal, Tracy? She emerged from Richards having said nothing the whole evening. Finally I asked,
Well, what did you think of Johnette - truth please,
Tracy looked at me and said simply,
I honestly had no idea she is that amazing. Her CDs didn't translate fully
that
kind of power in her voice! I want you to give me back all the cds I returned to you.
But what were the downsides - what glitches, if any, did you notice?
Too late - Tracy was ignoring me as she jotted down the CDs she wanted returned, pronto.You can find here:
Information on Johnette
Johnette began her
Scarred
tour on October 4, 2007 to promote her solo effort.
Upcoming Tour Dates
Nov 17 - CAFE DU NORD - SAN FRANCISCO W/DAVID J
Nov 18 - KUUMBWA JAZZ CENTER- SANTA CRUZ W/DAVID JNov 24 - THE COACH HOUSE - SAN JUAN CAPISTRANO W/DAVID JNov 25 - BELLY UP TAVERN - SOLANA BEACH W/DAVID JNov 27 - THE ROXY - LOS ANGELES W/DAVID JNov 29 - CLUB CONGRESS - TUCSON W/DAVID JNov 30 - MARTINI RANCH - SCOTTSDALE W/DAVID JDec 1 - SANTA FE BREWING CO. - SANTA FE W/DAVID JDec 2 - WALNUT ROOM - DENVER W/DAVID J