Visit Swanktrendz
Turns out the Iron Chef's luck just sank lower than the bottom of the bay at Kits Beach.
Rob Feenie
, who has been riding high on the crest of the culinary wave that's been sweeping Vancouver over the last ten years, has officially severed relations with his West Broadway restaurants
Feenie's
and
Lumiere
. Lumiere, which won the prestigious
Relais Gourmand
award in 2000, and Feenie's, which won the
Qualitie Awards
in 2003, are both Rob Feenie's babies. He started Lumiere twelve years ago; Feenie's has been around for four. Plans were in the works for a chain of Feenie's restaurants to open, riding partly on the reputation of the restaurants themselves, and partly on the reputation of Feenie himself, winner of the 2005
Iron Chef
TV challenge. Unfortunately, as Feenie himself points out, he's a chef, not an accountant. He ended up losing control of the two restaurants two years ago following a $1.2 million upgrade to the kitchen. Turns out that when the dust settled, he was $350,000 in the red and on the verge of declaring bankruptcy; original partner
Ken Lei
needed to be paid off as well. So investment banker
David Sidhoo
and wife Manjy stepped in to save the day - or so it appeared...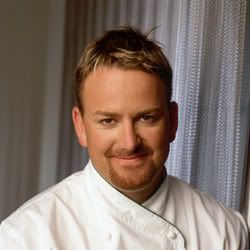 Fast forward two years, and the Sidhoo's have hired 28 year old Canadian
David McKay
away from
Gordon Ramsey's
NYC restaurant to be Executive Chef at Feenie's and Lumiere; Rob Feenie, meanwhile, complains of his diminished role in the the marketing, operations and food selection of 'his' restaurant. Consequently, as of the beginning of November, Feenie parted company with Feenie's (and Lumiere). Now, to further complicate matters, the chef at Feenie's has just stepped down. Sounds like a case of too many chefs spoiling the broth...