Vancouver hip-hop artist Baba Brinkman vents his frustration with the current Conservative government by remixing Stephen Harper's recent speech into a scathing rap song. The result is "Power Trip", a rap editorial on the authoritarian management style and environmental recklessness of Canada's current Prime Minister.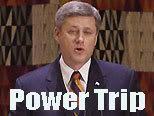 Following the Throne Speech and its subsequent passage in the House, Stephen Harper delivered a speech in Parliament filled with all of the arrogance, bluster, and misinformation that Canadians have wearily come to expect. Taking excerpts from Harper's speech and reworking them over a sinister instrumental, Baba Brinkman creates a lyrical dialogue with his head of state, a political duet that gives "strange bedfellows" a whole new meaning.The song can be downloaded for free from
Baba's MySpace link:
Few rap artists in Canada have turned their craft towards politics with more insight and impact than Baba Brinkman. Back in 2004 he gained national media attention when his song "Trade War" ruffled some American diplomatic feathers at a fundraiser for his mother, Joyce Murray, the former BC Minister of Management Services.
Read the full story on CBC:
Then in 2006 Baba released "The Fellowship of Dion", a song commenting on the Liberal Leadership race, which played nationally on CBC Radio One and was prominently featured in the Montreal Gazette's coverage of the Leadership Convention.Baba Brinkman's political raps are now so notorious that the BC political watch website, Public Eye Online, recently announced his mother's nomination as Vancouver Quadra's Candidate for the Liberal Party of Canada with the headline: "Coming Soon, a New Baba Brinkman Rap?" Loathe to leave his fans disappointed, Baba raises the bar yet again with "Power Trip", delivering his trademark combination of sharp lyricism, fearless truth-telling, and astute political savvy. In a music industry increasingly defined by safe pre-packaged images and appeals to the lowest common denominator, Baba Brinkman is a recording artist with a difference.