The other night Christine and I headed downtown to see Tomi Swick. It was an early show - something I was quite happy about, since I had to be at the airport to catch a flight first thing the next morning. When we arrived downtown we pulled into a parking spot, only to have some guy appear in my face the second I got out of the vehicle. He had a hard luck story - just spent $14 on a parking ticket, but now his girlfriend called and so he had to take her to the hospital (or some such thing). I've heard the same sad tale from more than a couple other panhandlers before, quite frankly. We politely declined and bought a ticket instead from the parking meter. But - the next morning, as I went to leave for the airport - flat tire. Closer inspection showed a nail. Hmmmm... Vengeance had been wrought - or perhaps it was just a coincidence? I think not...
Anyway, we got to the club and perhaps because of the early hour, there were only about 40 people in the club. The first act came up within a few minutes, and I was a bit confused for a while, having thought he said they were called 'Bach Chemist'. Turns out the guy's name is Bob Kemmis. "Thanks for coming to the wake," he said to start the show. Turns out he was a pretty funny guy, making jokes throughout. I kind of tuned out during his first song, which was pretty straight up C & W (just not my taste) - but then he spent the rest of his set morphing into a whole variety of different types of sounds: sometimes they sounded like Joe Jackson, at other times like a '70s band, and so on. All in all, I really enjoyed their set: good jokes, good tunes, and good musicianship. There were a number of songs that he sang with female accompanment, and they were great. This is a very multi-dimensional band. Go to www.bobkemmis.com for more.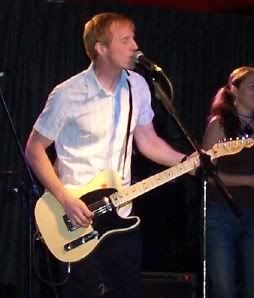 The headliner of the evening was Tomi Swick. Swick is a big guy; he also has a big voice. But it's not the type of voice you'd expect from a guy who looks like he does. Rather, Swick's voice reminded me of Thom Yorke's - he has that ability to take a single syllable word and stretch it out into five or six syllables. And that's not a bad thing. The more I heard of his voice, the more I liked it. It's a grower, that's for sure. His sound is quite commercial, and already he's had some real commercial success, which is pretty significant, considering before this tour, he didn't even have a cd of his own out, he was just on a compliation. But the band is able to rock the house as well, and they proved that toward the end of their set. However, my favourite moment was when Swick sang a ballad dedicated to his mother, Isa. It was one of those songs that made the hair stand up on the back of my neck.
So I predict that our Mr. Swick will soon be doing very well for himself, if what we heard the other night was any indication. You can't go far wrong with a voice like that...