Richard's on Richard's - Near Full Capacity
August 28/06
Obligatory superficial observations - crowd looked to be in their early 20's. Good looking, fashionable crowd with a female to male ratio of around 60/40. One thing that stood out was the amount of blonde female fans - does Ben Lee have a thing for blondes?
Quebec's Suits xl opened the gig with a 7 song set with was both melodic and catchy. Consisting of three members (Sam & Felix - Vocals & acoustic guitars, and Olis on Drums). The set was amazingly loud and energetic given the few instruments involved. I wondered if there was any pre-programming involved for bass, etc.?
The Suits xl had just released their cd, 'Quarter Life Crisis' on August 15th and it was for sale along with t-shirt merchandise. Due to the singer's self-proclaimed vocal restraint, they called this gig their 'toned down version'. Well, you could have fooled me. I think they began with their song "Low' yet the best tune they played, Play, was also one that hit the top 10 in B.C. (according to the lead singer). Excellent song. They ended their set with the song 'Downloading'. A title that would have been confusing 15 years ago. This was a totally appropriate opening act for Ben Lee.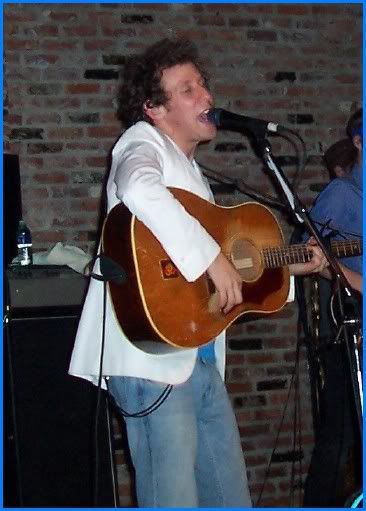 Ben Lee has got to be one of the nicest performers I have had the opportunity to view and (briefly) meet. How many bands have an intro house song by Kermit the Frog? How many singers perform their entire sets with a grin spread from ear to ear?
His set-up this evening was a far cry from years ago when he was an opening act at the Commodore. His band now includes 4 others (Gowan - bass, Nic Nic - guitar, Wes - keys, and Rob - drums) Nonetheless, Lee has still retained his affable, non-affected persona, despite being in the biz for 14 years (born September 11, 1978). Most of the songs he performed were from his latest album, 'Awake is the New Sleep'.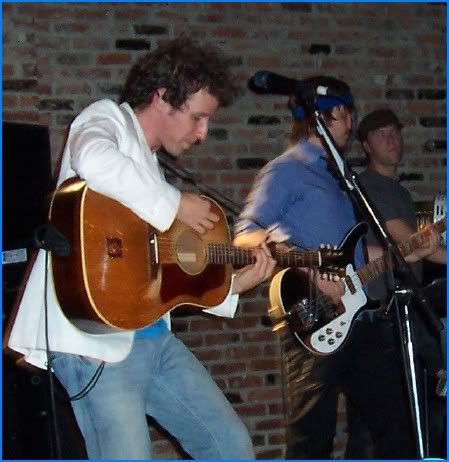 As usual, the ever chatty Lee entertained the audience between songs. He began with (appropriately) 'Begin', and then went on to humour us by saying that it was his 'first song and he would follow in a logical manner'. When he began the song 'Into the Dark', he encouraged audience participation (which was easy as the audience clearly knew all of his lyrics).
Whilst chatting, he determined that he would support Justin Timberlake's efforts to bring 'sexy back' and predicted that by 2008, all of the audience would have 'sexy back.' He then went on to explain that he was a hip-hop fanatic, loved Jay-Z, and occasionally likes to humiliate himself in public by attempting to rap. He also went on the say that he actually saw an ad for gold 'grills' (teeth) at goldteethusa (only in the USA). He promptly put on his ordered grill and sang/lisped a tune.
He performed a cover of Modest Mouse's 'Float on' as well as a couple of tunes from his former band, Noise Addict.
After joking that myspace.com was a veritable stalking arena, which he 'was cool with', Ben broke into his 'Since I met You' song, a newbie song that can only be downloaded at present. Being a lyricist lover - this proved to be my favourite song. However, all of Ben's songs are witty, self-deprecating, insightful, and yes, dirty.
His one regret was that his song, 'Cigarettes Will Kill You' never became a hit single, and he went on to perform it as though it had been. The audience was singing along and, once again, it surprised me how many knew his lyrics.
He dedicated the song 'I ache for You' to all the ladies and it was received enthusiastically - almost swooningly ala Frank Sinatra days.
'I wish I was him' had everyone bopping along to the catchy beat. Apparently this song was a satirical tribute to the Lemonheads' Evan Dando
He joked about four ladies from Montreal who were obsessed with Matthew Modine and promptly sang a hilarious song called 'Creamy Jeans (for Matthew Modine)' that was campy, dirty and fun.
By the time he sang 'Whatever it is' (after an anecdote about finally being able to juggle three balls) I had to take leave. I know 'Catch my Disease' was coming up, but I had seen enough to realize that Ben was in top form and performed an impressive set. Definitely a feel-good pop rock concert for 2006