Visit Swanktrendz
Parade Date: Saturday, Oct 27/07Parade start: 7 p.m.
Visit Public Dreams
I am typing this at 9:50 pm which means the parade has been on for almost two hours. I am disappointed that I didn't think to write about it sooner - in fact I forgot all about it.
Vancouver's Parade of Lost Souls
is an annual event that Vancouver is well known (globally) for.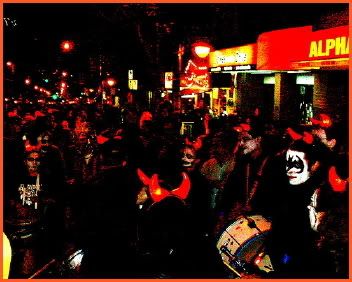 If you google 'top ten Halloween events', Vancouver's Parade of Lost Souls is generally on that list. Come to think of it, Vancouverites are crazy for Hallowe'en, period. I have never met as many people as I have (since moving here) whom
love
Hallowe'en. It appears to be Vancouverites' favourite event. (
Let me add - it's never been recognized as an official holiday, not even as an important event.)
I think the allure of the day is because people enjoy dressing up and escaping from 'themselves' for a day, and escaping from the drudgery of everyday life. I do remember that devilish feeling of not being recognized and thus, not being responsible for my actions (because no one knew it was 'Christine'. What a freeing feeling!).The best Hallowe'en I had waaayy back was when my friends and I dressed up as the
Rocky Horror Picture Show
ensemble. We represented the scantily clad female roles from the movie and I even coerced an inebriated friend to don Dr. Frank N' Furter's corset and fishnets. (My pals clued in afterwards - after viewing the movie's then our own images - that I was the only one still modestly dressed.) I suppose I still had some of that modest streak. Regardless of my outfit, it ended up being a fun evening - one I will remember for a long time.In hindsight, we were quite the avant garde group in a small interior town; a town that had never heard of the movie R.H.P.S. In truth, my friends had never heard of the movie either, but being that I had just returned from Toronto's Roxy Theatre's
Rocky Horror Picture Show 'experience'
- complete with toast, toilet paper and all. (AND Tim Curry's legs were amazing in fishnet stockings.) Anyway, the gals came on board after hearing my 'Roxy experience sell'.Whoops, once again I digress... Toronto has its
Haunted Adventure
and Vancouver has its
Parade of Lost Souls
which occurs every year on the Saturday before Hallowe'en. This event began in 1985 and as the years progressed, the parade has attempted to take on a more respectable and traditional outlook on Hallowe'en. Music, dancers, costumes, vendors and walking /strolling are all part of the evening's itinerary.The parade is held to honour the dead with fireworks and creative tributes of floats/ vignettes. The parade also features a procession of crazy costumes, lanterns, choreography with torches, and culminates in a grand fireworks finalé. Even better - it is completely free. The only problem the parade has ever experienced was blip in 2005 - it didn't happen and I am not sure of the reasoning behind this 'non event'.My favourite part of the Parade of Lost Souls' route is a cemetery stopover which provides hilarious headstone reading and encourages visitors to bury their 'regrets'. The entrance gravestone reads:
"In this graveyard lies various regrets that people have asked us to bury. They are ready to move on."
Of course the fun regrets 'buried' are ones such as
My grade 9 perm.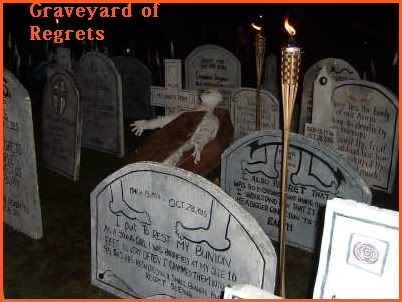 I have been too bah humbug and jaded about Hallowe'en for the last 13 years (due to numerous things.) I think my Autumn Resolution (that's right - I make resolutions when I feel like it) is to take part in 2008's
Parade of Lost Souls
dressed up as
A Christmas Carol's
Marley
with my chains of remorse made up of every decision I've made that was reliant on being safe; my behaving as an armchair critic; my inclination to make
boring
decisions, and worse - my choices to act as the 'agreeable person' to ideas without sharing what I truly want/need/feel. Subsequently, I have
many
chains of remorse. I had better start compiling those chains now and I'll need to bring a wagon to carry them all. Upon completion of (my participation in) the 2008 Parade, I will finally be exorcized of my Hallowe'en bad attitude and in 2009 I shall dress up as an inane Rock Star singer (who will presently remain nameless.) Although the band were semi (uhm... totally...) serious about their on stage apparel, they were FUNNY and that shall be me - The Oblivious Bad-Fashion-Sense Rocker, cowbell and all!I look forward to seeing you all at the Parade of Lost Souls in October, 2008!