Visit Swank's Home Site
Visit Opus Hotel
I was watching a locally produced television show at some ungodly hour in the morning (cursing my insomnia) when I happened upon a Vancouver gem. After the commentator's opening introduction (detailing a hotel designed with mock personalities in mind) I immediately sat up and thought, what rock have I been living under? Why did I not know about this hotel, when it clearly has had the world's attention?The hotel I am referring to is the pet friendly, 96 roomed,
Opus Hotel
at 322 Davie Street, in Vancouver, British Columbia.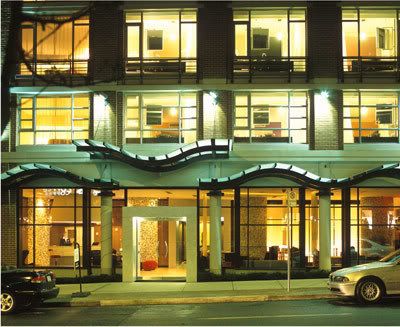 While watching the show (I can't, for the life of me, remember its name) I was intrigued and impressed with the style concept of the hotel. The architect/designers (owner John deC. Evans, general manager Daniel Craig and former general manager David Curell) decided upon a 'themed' hotel where guests could adopt one of five personas while selecting the persona's 'lifestyle-inspired' room.For example, if you are an extremely chic, well-read, solidly 'coupled' pair, then
Bob and Carol's
room would be a wonderful getaway/ 2nd honeymoon for you. Perhaps you are a magazine editor, impeccably, yet funkily attired and in town for a concert? Well, welcome to Opus Hotel,
Susan
. Feeling a bit exhibitionistic, sexual and playful? Well,
Billy
- here's the room for you. Then again, you may be feeling like the urban, metrosexual, extremely fit,
Mike
- in town for a physician's convention. There appears to be a lifestyle suite for everyone's fantasy alter ego. By far, the favourite 'personality' room is the luxurious penthouse,
Dede
. Regularly scooped by the likes of Jennifer Lopez and Jessica Alba,
Dede
offers the ultimate in decadent pampering.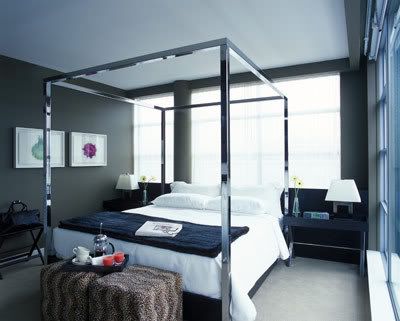 Each of Opus' rooms stray from the typical bed and bathroom hotel format by having decorative touches/ props to match the themed life-style. Small flourishes such as Bob Marley cds, a 42" wide-screened tv, Japanese Shoji screens, to intimacy kits make the Opus Hotel an 'experience' rather than an accommodation.
Upon booking your room, you will receive an email detailing which events are occurring in Vancouver that your room's 'personality' would be inclined to attend. This painstaking attention to detail has created a Vancouver buzz amongst the world's top hotels, and various media continue promoting Opus, thus prolonging the 'buzz'. (Check out the impressive
list of magazines
that Opus Hotel has been featured in.) The 'experience' of staying at Opus Hotel is so memorable that it has been included in Oscar presenters' goodie bags for the last few years. Way to go, Vancouver. Opus Hotel make all creative Canadians proud.
Voted 'Best of the Best' One of the World's Top 100 Hotels- Condé Nast Traveler 2005 Magazine
Voted one of the Best 500 Hotels in the World-
Travel and Leisure Magazine 2006
One of Vancouver's coolest hangouts.-
Wallpaper* Magazine
images from www.opushotel.comOpus Hotel - 322 Davie Street Vancouver, British Columbia, Canada V6B 5Z6Tel 604 642 6787 Fax 604 642 6780 Toll Free 1 866 642 6787 Email: info@opushotel.com