Commodore Ballroom, September 18 2007, Medium Capacity
Visit Swanktrendz's home Site
I reluctantly attended a concert at the Commodore Ballroom, Tuesday evening.
Hot Hot Heat
were headlining and I felt they were due a 'Catching up with...' piece since they just released their fifth cd
Happiness Ltd.
which is charting well. I am pleased that I talked myself out of an early bedtime because I was introduced to a band who is earmarked for my
Best of 2007
list.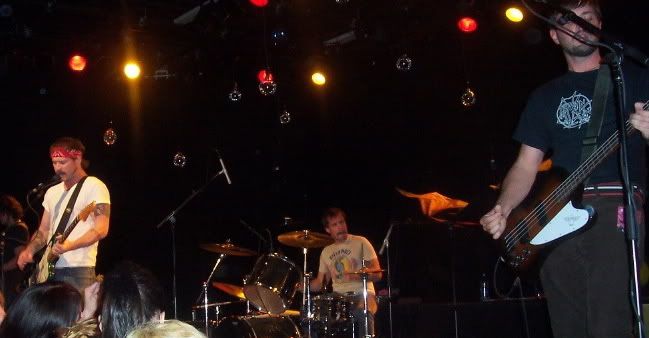 The Dudes commanded my attention immediately. I arrived just as they were ending Love is Dangerous and as they strummed the opening to Fist I thought - this is good. The band had clearly been around the music gig block a few times based upon: a) water consumption b) not dressed to impress singer actually dressed like an 80's Bruce Springsteen c) excellent inter band communication (slight nods, raised eyebrows were understood immediately).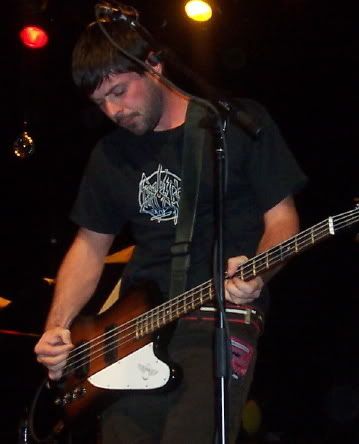 The Dudes are well known in their hometown of Calgary, and their act as garnered write-ups for their amusing and radio-friendly music. (And please don't confuse them with the Texas/Louisiana Blues Soulbilly band of the same name.)
Drummer (Scott Ross) stole the show with his energetic - bouncing a foot off his stool - focused and driven hard beats. He relied primarily on bassist, Jon Hopkins, for most of his lead ins. His timing was impressive for a sans click track drummer (click tracks are a necessary tool for many drummers). Singer Dan Vacon and guitarist Bob Quashnick rounded out the remaining The Dudes and they came across as seasoned, amiable and humorous. Vacon kept us entertained with song anecdotes and occasional crowd recognition (always a pleaser). I started laughing as they played tongue-in-cheek Drop-kick Queen of the Week" dedicated to all the ugly girls, quickly adding that Vancouver 'didn't have any'. All of their songs were both lyrically and musically interesting. There was only one exception - one song began with a riff straight from Heart's Barracuda so similiar that I thought Vacon was going to launch into a cover.
Hot Hot Heat mounted the stage at exactly 11:00. Normally Steve Bays et el would have knocked the opening act out of the ballpark. Not tonight. Steve was using a wireless mic and I am wondering if he is still is, after tonight's abysmal set? This is the third time I have seen Hot Hot Heat and I know, firsthand, what a powerful voice Bays has. The sound system did not do him (or Hot Hot Heat) justice. Steve was aware the sound was off and his vocals were non existant, but aside from gesturing with annoyance to bring the level up, he didn't force/fix the issue. By the sixth song, I had had enough of Hot Hot Heat's 'Instrumental'. I caught a glimpse of Bruce Allen (Canada's music 'bigwig' who's known for his abrasive personality) and wondered what his opinion of the concert was.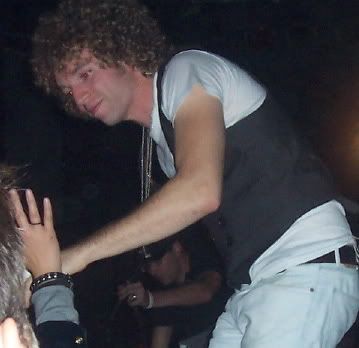 Overall, my summation of Hot Hot Heat's performance would be in synch with the band member's attitudes: Steve Bays annoyed, Paul Hawley distracted, Dustin Hawthorne disinterested Luke Paquin withdrawn.
Hot Hot Heat 3/10, The Dudes 9/10
CBC's Country Canada (Satellite Station) will be showing concert footage of The Dudes on October 3rd, 2007.