Swank Home
Swank's tblog Home
Swanktrendz Myspace Home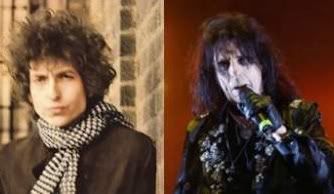 The first real rock'n'roll song I ever heard was 'No Time Left For You' by the Guess Who, probably around 1965, on the car radio. I loved that electric guitar sound (provided by Randy Bachman), and wanted more. "No, leave it
ON...
" I pleaded when my Dad changed the station. He didn't, so I got my own Westinghouse transistor radio from somewhere, and stashed it beneath my pillow at night, when I could pick up stations from exotic windswept places like Minneapolis or Chicago. I can remember far enough back when Elvis was still on the Hit Parade, hey now.
* Born To Be Wild
- Steppenwolf. First record I ever bought, back in ye olde days of 12" vinyl LPs. I was just a kid, and this was the first rock'n'roll record ever in our house. It was not met with much parental approval.
* Stuck Inside of Mobile (With the Memphis Blues Again)
- Bob Dylan. Still just a kid, and wondering, "What on earth is he talking about? And why do I LIKE this weird shit so much? Who IS this guy? What is going on here?" Those are all good questions for youngsters isolated in small towns to ask.
* School's Out
- Alice Cooper. An immortal anthem for the immortal snotty adolescent in all of us. Those opening guitar licks that sound like a fire alarm still send thrills and chills down my spine. Ah, fleeting youth. That feeling was briefly regained the first time I heard
London Calling
by the Clash, but that was years later and The Clash were not at all snotty. I think Alice was the first punk. I digress...
* Walk on the Wild Side
- Lou Reed. So sultry with the double bass guitars and the saxophone at the end. I was still a naive adolescent living in a small town in the middle of nowhere, and the decadence in that song seemed SO attractive.At the time, I'd never heard of Eric Burdon and the Animals. I didn't know
We Gotta Get Outta This Place
(didn't have a girl, either). Had I, that would have been our theme song. My loss at the time, but I was delighted to see that song resurface decades later, covered by DOA and Jello Biafra. I digress again, oh my.
* Peaches en Regalia
- Frank Zappa (first track on the 1969 'Hot Rats' album; I was a latecomer). Opened up a whole new world, that of instrumental music that could be both cool and interesting at the same time. I owe FZ a lot for that: it led directly to Duke Ellington and Oscar Peterson, Miles Davis and Charles Mingus, and an understanding of what sultry and cool really sounds like.
* Key To The Highway
- Sonny Terry and Brownie McGhee, on some old Vanguard blues anthology. Opened up another whole new world: How can two old guys (one playing harmonica and the other playing a six-string acoustic guitar) sound so good? "Time to get outta here and find out," I thought, and did.Despite all those wild youthful rock'n'roll influences, I turned out to be not wild, nor decadent, but instead rather quiet and thoughtful. Being young is usually difficult; I certainly wouldn't want to do it again. Music helps, and that which helps most is what you remember the longest and most fondly (yes, even Alice Cooper).