Visit Swanktrendz
Dave attended
WonderCon
down in San Francisco on the weekend of Feb. 27 to March 1. It was held at the
Moscone Centre South
, which was a great location within walking distance of many of the city's great attractions. This was Dave's first
WonderCon
, and he came back raving.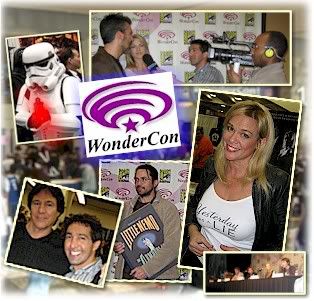 WonderCon
is the
West Coast's second biggest comic/popular culture conference
, and featured a wide range of activities. In addition to the usual comics, comics and more comics that you will find at a conference of this sort, he was also able to see a 20 min. preview of the long-awaited
Watchmen
film that opens later this week. The director was there, and he had exciting news about the Director's cut DVD that will be out later (there's to be a film within a film based on the pirate comic that the boy at the newstand reads throughout the graphic novel).On top of that,there were a number of celebrities of various sorts present, including
Shirley Manson
(of the band Garbage),
Alec Baldwin
(and the rest of the cast of the show Chuck),
Summer Glau
(of Firefly),
Sergio Aragones
(of MAD magazine),... and the list goes on. On top of that, there were numerous wares for sale all over the place, and a masquerade on Saturday featuring Super Heroes, goths, and steam punks.
Read Wondercon Interviews