Audio Blood Media readies their clients for public consumption.
Here's one for the dance floors. Guelph, Ontario's dance funk band,
GreenGo
are releasing the
GreenGoRemix Project Vol. 1.
Exciting remixes of everyone's favorite Canadian indie rock tracks from
Born Ruffians
, the
Rural Alberta Advantage, Women, Gentlemen Reg
and
The D'Urbervilles
.Five tracks will be available on their myspace in a couple of weeks.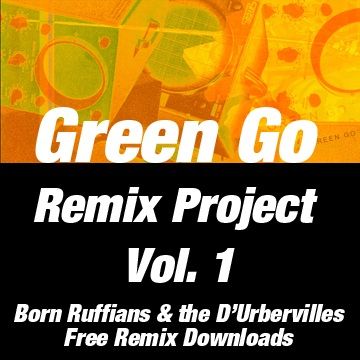 GreenGo
are gearing up for release of their debut full length,
Borders
, this
April/09
. 2008 saw them play many gigs and release a 3 song sampler, the
Ghosts of the Future
EP, which was quick to chart on campuses across Canada. Although defining their sound isn't the easiest task, it hasn't stopped people from trying.
Toronto Star's
Ben Rayner
was quick to get behind the band,
"Darting funk fretwork and synth-driven anxiousness to keep the adrenaline up throughout...these co-ed cats really start cooking when they betray a bit of a prog fetish and suspend their frantic calls to arms in a spacier shimmer."
Aside from constantly confusing critics,
GreenGo
have managed to sell out of their self-titled debut EP, headline
Steamwhistle's Indie Unsigned
showcase, and share stages with the likes of
Think About Life, Woodhands,
the
D'Urbervilles
and many more.Though the stages and the audiences are rapidly expanding with every performance, it will be awhile before GreenGo give up the turf that they tear up best: sweaty, dimly-lit house parties. The Trepid House in Waterloo, 276 Nelson street in Ottawa, and the attic at 447 Woowich in their hometown Guelph are only some of the properties whose residents have risked permanent structural damage in order to host the unparalleled electro-dance implosion. As a live review once suggested, "you might want to bring a change of clothes."