Visit Swanktrendz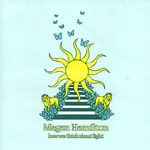 Toronto sweetheart
Megan Hamilton
will release her second full length album,
See Your Midnight Breath in the Shipyard
April 7th, 2009 across Canada. The album will be released on the artist-run
Familiar Music
, which Hamilton founded with
Steve Puchalski, Gary Peter and Shelby Lamb
in 2006.
Hamilton plans to release the album in her hometown of Toronto at the Rivoli on April 9th with friends
Olenka and the Autumn Lovers
. As well, Toronto comedienne
Kathleen Phillips
will be opening the evening.
She will spend the rest of the Spring and Summer touring with her band,
The Volunteer Canola
, in Quebec, Ontario and beyond.
SYMBiTS marks the third collaboration between Megan and Mark and was recorded differently than her critically acclaimed
Feudal Ladies Club
and
How We Think About Light
EP. Where previously it was a homemade studio, now there was a fully rehearsed band in a professional studio. I
The session players include label mate
Steve Puchalski
(Deromantic) on keys;
Adam White
on bass;
Andrew Sadoway
on drums; and
Craig Browne
on lead guitar and back-up vocals. Megan played acoustic and electric guitars, some keys and layers of vocals.