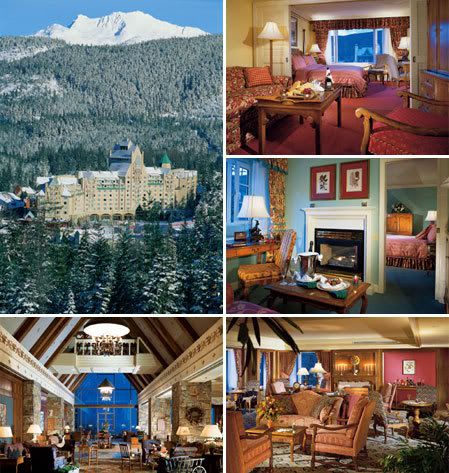 BC has some hot hang-outs. We're still not in the same league as jet-set hot-spots like London, Paris, New York and the like, but as they say, you've come a long way, baby. Wasn't that long ago that Vancouver was just another provincial town... and here we are, waiting for the world to come to our door for the 2010 Olympics.
If you're looking for some celebs, and you happen to be up in Whistler, you can probably find them at the
Fairmont Chateau Whistler
. The Fairmont is a very upscale chain of hotels that stretches across the nation, and many of its hotels are in the uniquely Canadian 'chateau' style. The
Fairmont Hotel Vancouver
is where the Queen usually hangs out when she's in town, just to give you a basis of comparison. So you can assume the Fairmont Chateau Whistler to be of the same calibre.
Fairmont Chateau Whistler was recently voted both the #1 ski resort and the #1 golf resort in North America.
Fairmont's Mallard Lounge
boasts a number of outdoor fire pits. Celebs such as Tom Cruise, Kurt Russell and Mel Gibson have been spotted there.
Not interested in traipsing all the way up to Whistler? Then try
West Restaurant
. This four star, award winning restaurant serves up contemporary regional cuisine and is said to be the favourite of Pierce Brosnan.
Image from /www.montana.be/